Once Lab Cases are created, you can easily manage, track, and access them.
In the Appointments Module, the status of lab cases for the selected date shows on the right under the calendar.

If the status is All Received, all lab cases attached to today's appointments have been marked Received on the Lab Case Edit window. If the status is Not Received, lab cases for today's appointments are still outstanding. The number indicates how many lab cases are not marked Received. If using Clinics, the status reflects lab cases attached to all appointments scheduled in the selected clinic's operatories, for the selected date.
View Lab Cases
In the Appointments module, click Lab Cases, or in the Main Menu, click Lists, Lab Cases.

By default, only incomplete lab cases attached to incomplete appointments are listed. If you change a filter value, click Refresh to update the list.
From/To Date: View lab cases between a specific date range.
Show Unattached: View lab cases not attached to an appointment.
Show Completed: View completed lab cases. Lab cases are marked complete when the attached appointment is set complete.
Clinic: Sort the lab case results by selected clinic. Only visible when Clinics is enabled. The list will only include clinics the user has permission to access.
To quickly jump to the associated appointment in the schedule, right click on the lab case then select Go To Appointment.
Change Tracking Status
To change the status of a lab case, double click it.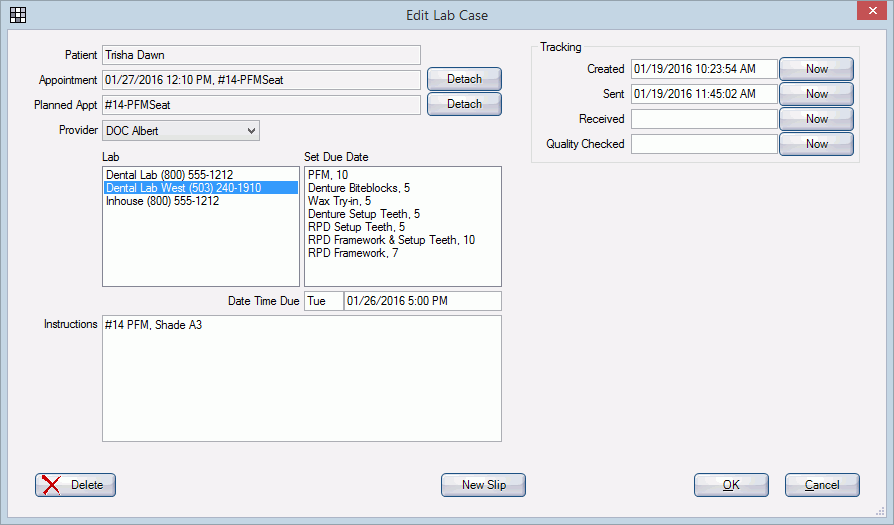 Under Tracking, enter a date/time to update the tracking status. Click Now to insert the current date and time.
Created:If this is the only date entered, the status will be Unsent.
Sent: If this is the last date entered, the status will be Sent. Usually entered when the case was finished being packaged and set out to be picked up.
Received: If this is the last date entered, the status will be Received. Usually entered when the lab case has come back from the lab and been processed by the office staff.
Quality Checked: If this is the last date entered, the status will be Quality Checked. Usually entered when staff has performed whatever quality checks are needed, including checking contacts, appearance, etc. and the lab case appears to be ready to deliver to the patient.