Use this window to process an ERA.
In the ERAs window, double-click on an ERA.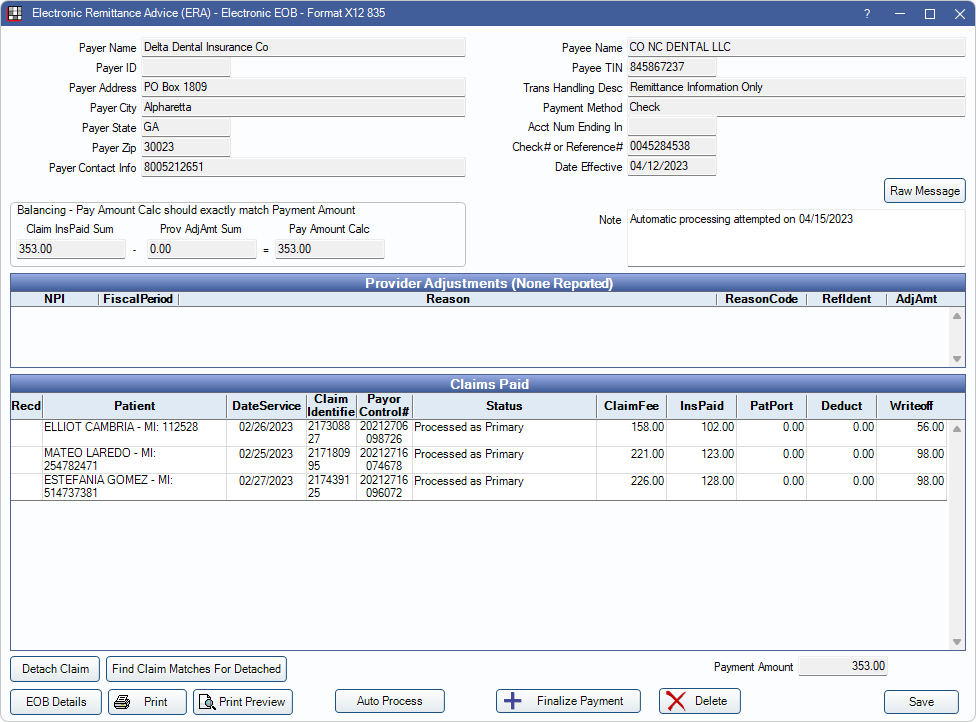 To process an ERA, receive the claim or claims, and finalize the payment. Any claims that were split by the payer will be matched and processed together.
Payer/Payee Information
The top half of the window displays information about the payer (carrier) and payee (office/provider).

Raw Message: The electronic file sent by insurance. This is used for troubleshooting purposes. See ERA Raw Message.
Provider Adjustments
Provider adjustments will display if any exist. Double-click a row to open a simple window that can be used to copy text.

Claims Paid
All claims in the ERA list under Claims Paid.

Right-click options:
Go to Account: View patient's account information.
Add Tracking Status: Add a tracking status. See Track ERA for details.
Buttons
A number of actions can be taken using the buttons at the bottom.

Detach Claim: Click to detach a claim. When a claim cannot be processed in the ERA window, or, after processing the Claim an X is still not showing in the Recd column, follow the Detaching a Claim steps on the ERAs: A Step-by-Step Guide document.
Find Claim Matches For Detached: Click to find claim matches for any detached claim (claims with a received status of N/A).
EOB Claim Details: Highlight a claim and select to view a breakdown of the claim. See EOB Claim Details.
Print: See Print ERA.
Print Preview: Click to preview before printing.
Auto Process: Click to receive payment for all claims on the ERA and finalize the batch insurance payment. A popup will indicate how many claims were processed successfully, including any errors that need resolved.
Finalize Payment: Once all claims are received, click to finalize the payment.
Delete: Delete this ERA. All claims must be manually detached.