Allergy information can be entered for each patient.
In the Medical window, click the Allergies tab.

Add Allergy: Add an allergy from the Allergy List.
Show Inactive Allergies: List allergies that have been marked inactive.
Allergies: A list of entered allergies. Double click an allergy to edit. The EHR InfoButton may show if EHR is turned on.
Active allergies show in the Chart Module, medical area in bold red. Every time you add, edit or remove a patient allergy, an entry is made in the Audit Trail.
Add or Edit Allergies
Click Add Allergy, or double-click an existing allergy to edit.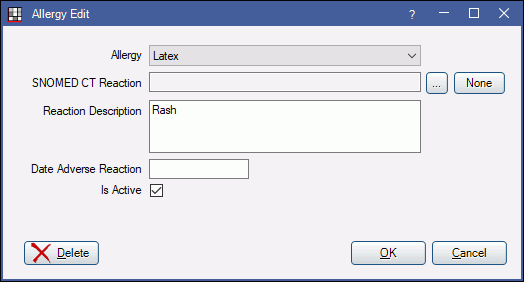 Allergy: Select the allergy. All available options are those set up in the Allergy List.
SNOMED CT Reaction (EHR only): Click [...] to select SNOMED CT Codes (sent in the XML of a EHR Continuity of Care Document ( CCD )/summary of care). Click None to clear the box.
Reaction Description: Enter the allergic reaction (optional).
Date Adverse Reaction: Enter the date of the reaction (optional).
Is Active: By default the box is checked. To mark an allergy inactive, uncheck the box.
Delete: Click to remove this allergy from the patient.
Click OK to save.