Set up X-Charge for Clinics
Locations using Clinics can store X-Charge login credentials for each clinic in a single database, then associate the credentials with different merchant accounts in X-Charge.
The X-Charge accounts that can be used in Open Dental will depend on the Open Dental security settings for the logged-on user. Users restricted to a clinic can only access the associated merchant account. Users not restricted to clinics (Headquarters) can access all merchant accounts. See Security User Profiles.
There are four steps:
Create the clinics in Open Dental. Click Lists, Clinics.
Create the merchant accounts for each clinic in X-Charge.
Create clinic users in X-Charge.
Set up clinic-level X-Charge credentials in Open Dental.

Add Merchant Accounts to X-Charge
Once X-Charge is installed, add merchant accounts for each clinic.
In X-Charge, go to File, X-Charge Server.
In the server window, click "Setup..." and enter the administrator's credentials.
Click Credit Cards, Connection tab.
Add Processor Accounts Information for each clinic in Open Dental that will be using X-Charge. For clarity, we recommend using the Open Dental clinic descriptions for the Processing Account Names.
Set a Default Processing Account for the Headquarters Clinic
If no clinic is selected for a payment (none), the default merchant account for the Headquarters clinic will be used, as long as the user is not restricted to a specific clinic. To set the default merchant account for headquarters, set the Headquarters processing account as the 'Default (Make this Account the Default for this Processor)'.


Create Clinic Users in X-Charge
Create clinic users in X-Charge for each Open Dental clinic that will process payments with X-Charge.
Click General Options, Security tab.
For each clinic, create an X-Charge user with user name and password and select the Processing Account (merchant account ) to use with the clinic.


We recommend assigning the Open Dental clinic description as the X-Charge Processing Account Name and the X-Charge User Name.
One clinic user must be the X-Charge Administrator. This user can process payments using any merchant account. We recommend assigning the Administrator user (user "system" below) to the Headquarters clinic in Open Dental (see below).
Administrator example: In this example, when the administrator credentials are entered in X-Charge, the user can process payment using any merchant account.
Clinic example: In this setup, when user Clinic2's credentials are entered into X-Charge, the Clinic2 processing account will be used thus ensuring all payments for the clinic use the correct merchant account.


Enter Clinic Level X-Charge Credentials in Open Dental
For each clinic, enter the X-Charge user name and password that will be used to log in to X-Charge.

In Open Dental, click Setup, Program Links, then double-click X-Charge.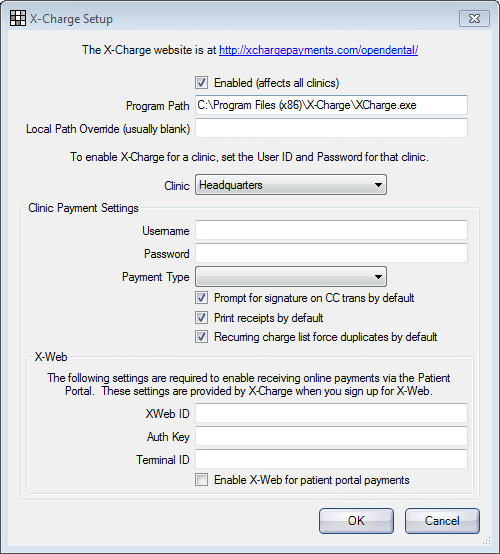 Check the Enabled box and verify the program path.
First enter payment settings for Headquarters.

Select Headquarters as the clinic.
Enter headquarter's username and password supplied by X-Charge (as set in Create Clinic Users in X-Charge above).
Select the default payment type for X-Charge transactions. Options can be customized in Definitions, Payment Types.
If desired, set default settings for payment type, prompt for signature, print receipts, and force recurring charge list duplicates.
(optional) To enable Online Payments via the Patient Portal, enter X-Web settings.
a. Check 'Enable X-Web for patient portal payments'.
b. Enter the XWeb ID (12 digits).
c. Enter the AuthKey (32 digits).
d. Enter the Terminal ID (8 digits).

Enter clinic level settings. Headquarter settings will be used if you do not make any clinic-specific changes.

Select the clinic.
Enter the clinic's X-Charge username and password.
If desired, set default settings for payment type, prompt for signature, print receipts, and force recurring charge list duplicates.
(optional) Enter the clinic's X-Web settings.

Click OK to save settings.
Notes:
To set the default option for storage of credit card tokens, see Account Module Setup, 'Automatically store credit card tokens'.
For details on how clinic assignment restricts user access in Open Dental, see Clinic Security.
If the currently logged on user is restricted by clinic, only the clinic they have access to will show in the Clinic dropdown and they will not be allowed to uncheck the Enabled box.
For details on 'Recurring charge list force duplicates by default', see X-Charge Setup (one set of credentials).
For clinics that will not use X-Charge, select the clinic, then clear out the Username and/or Password. Then, when the clinic is attached to a payment, the X-Charge button will not be visible.
If the Headquarters username and password is the same as one or more other clinics, and the username and/or password is modified for Headquarters, the edits will affect the other clinics as well. To unlink them (assign different usernames/passwords), simply change the username or password for the clinic(s). Then any changes made to Headquarters credentials will no longer affect the clinic.
Unchecking 'Enabled (affects all clinics)' disables X-Charge for all clinics.