Web Sched New Patient: What the Patient Sees
Below is a description what a patient will see when they try to schedule their first appointment using Web Sched New Patient. Only patients who don't have a patient record yet can schedule appointments using Web Sched New Patients.
Web Sched New Patient interface: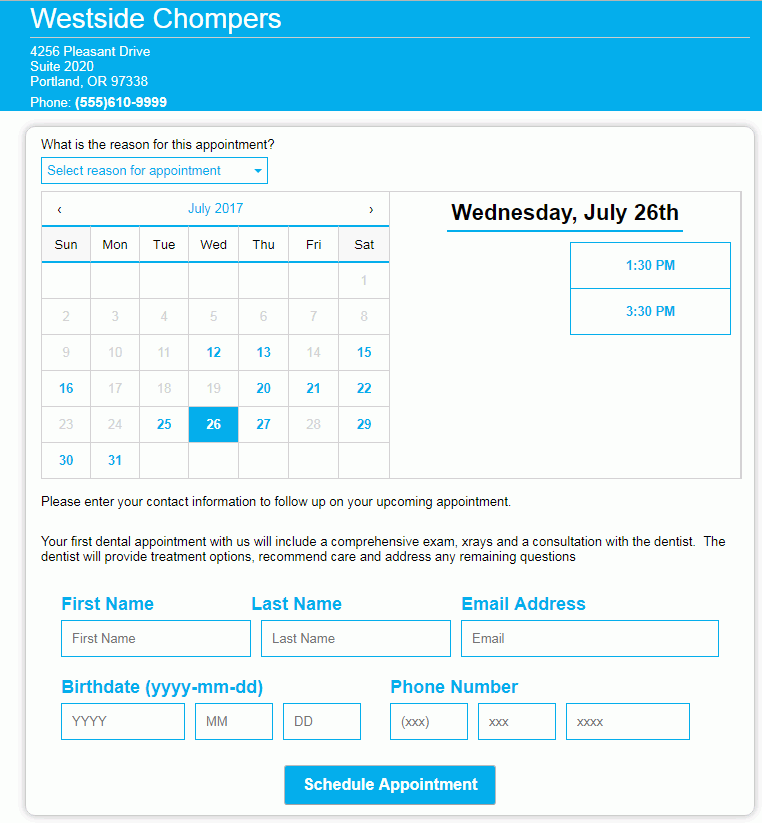 Name, Address, Phone: Determined by the hosted URL's practice or clinic information.
What is the reason for the appointment: Options are determined by Appointment Types. This information will be added to the Appointment Note. If there are no appointment types setup, this option does not show.
Calendar: Shows the first available time slots available for new patient appointments, based on criteria set in Web Sched New Patient Setup.
Message: Above the contact information is an appointment message that can provider helpful guidance to the patient. Customize the text in Web Sched New Patient Setup.
The default color is blue. To change the color, see Web Sched New Patient Setup.

Patient will:
Select the reason for the appointment.
Select a date. Available time slots will show.
Select a time slot.
Enter contact information (required)
First Name: The patient's first name.
Last Name: The patient's last name.
Email Address: The patient's email address.
Birth Date: The patient's birth year, month, and day (YYYY, MM, DD)
Phone Number: The patient's phone number.
Click Schedule Appointment. If patient meets scheduling criteria (over 18, not an existing patient), a confirmation message will show.

Click Yes to Confirm, or No to return to available dates.
If patient meets criteria (there is no matching patient record and they are 18 years of age or older), a confirmation message will indicate scheduling success. The standard confirmation message looks like this:

If you have added a redirect URL to the code, the redirect URL will show instead.

If the patient does not meet criteria (matching record already exists in the database or is patient is under 18), the patient will not be allowed to schedule online.

Close the browser window to end the session.
Scheduled appointments instantly show up in the Appointment schedule.