The Web Sched New Patient Appt Types definition controls the list of items that list as Reasons for Appointment when using Web SchedNew Patient. When an option is selected, it is added to the appointment note.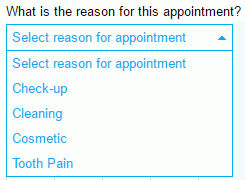 To create options:
In the Main Menu, click Setup, Definitions, then select Web Sched New Patient Appt Types.


By default the list is empty. When there are no options setup, the Reason for Appointments option will not show in the Web Sched New Patient interface.

Click Add, or double-click a definition to edit.

Name: Enter the 'reason for appointment' option.
Click OK to save.
Reorder Appointment Types
On the main Definitions window, highlight a reason, then click the up/down arrows.
Remove an Appointment Type
On the Edit Definitions window, click Delete.