See Update.
Update Requirements
To update Open Dental versions, the practice must be on support and have a unique registration key. If your practice is no longer on support and would like to update, contact Open Dental Support to sign back up for support.
Special Installations:
Open Dental Cloud users, contact Open Dental Support to schedule an appointment to update.
Multiple location users, see Updates for Enterprise Users at the bottom of this page for additional details.
eService users, always update from the computer where the eConnector is installed.
HL7 users, always update from HL7 server.
Replication users, see Replication: Update Open Dental Version for update instructions.
Note: Set a specific computer to run updates from in
Miscellaneous Setup
, Update Server Name. This can prevent accidental updates and is especially important when using eServices or HL7, or when there are multiple locations.
Notes about updating:
See our video: How to Update Open Dental to a New Version
The update time varies on three factors: how far behind your current database version is, the size of your database, and the speed of your server. Generally, an update can be done in 15-30 minutes, however, if there is observable slowness on the server or if your version was released more than two years ago, you may want to have an hour set aside to be safe. If anything goes wrong, it is possible that it will take longer, these times are not guaranteed.
We recommend running updates from the server to avoid possible network permission issues.
Update Instructions
Use these steps to follow along when performing an Open Dental update.
In the Update window, Click Check for Updates. This will display the updates available.

For users with an active registration key, the most recent versions are always available for install.
If you do not have an active registration key (no longer on support), you can only install versions that were available as of the date the key became inactive.
Foreign releases of beta versions require additional time for bug testing, so users outside the U.S. may note a delay.

Click Install next to the version you are updating to.


Any announcements related to the update will display.

Any open workstations will list. Open Dental must be closed on all workstations when an update is performed. Click Continue to move forward with the installation.

The download will begin.

Once the download is complete, click OK.

Open Dental will close. Wait until the Setup Wizard appears.


Follow the prompts of the Setup Wizard.

On the final step of the Setup Wizard, click Finish. The Wizard will close.

Right-click the Open Dental icon and run as administrator to open.


You will be prompted to update the database.

Once complete, log into Open Dental as usual.
Note:
Once you install and run the update, all other computers will automatically update when the program is next opened so you can easily keep all your computers updated.
An update can be triggered from any workstation that is using a higher version of Open Dental, even if an update was not intentionally run. This can happen when a multi-location office connects to multiple databases from the same workstation.
Some updates will automatically backup the database as a preventive measure. Large enterprise organizations that update often and have a comprehensive backup strategy can contact Open Dental technical support to disable this process.
Automatic backups during the update process are generated in the MyISAM format. If you ever need to restore from an automatic backup after a failed update, offices that use InnoDB will need to repeat the DB conversion process.
License Agreement
Depending on certain factors, you may be prompted to agree to the License Agreement.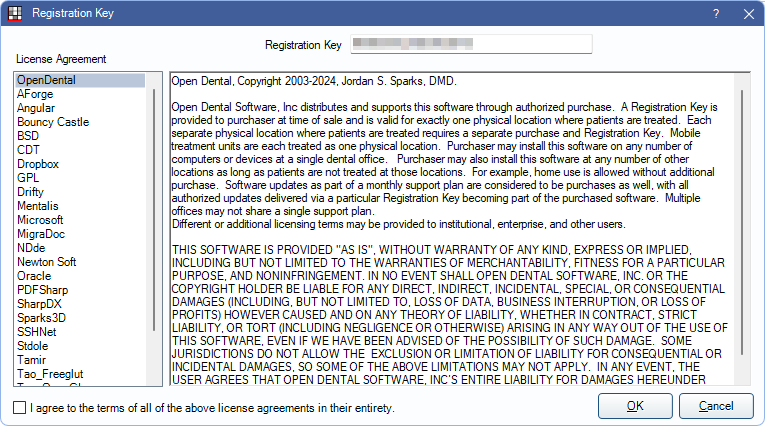 This prompt appears when:
You have updated to Open Dental Version 21.3 or greater.
You are an Admin user with the Admin Setup permission.
You have not agreed to the terms yet.
Licenses can be viewed again anytime. See Licenses.
Updates for Enterprise Users
Enterprise users who do not allow normal users to have administrative privileges and prefer to centrally manage all software updates can use the standard Windows solution for pushing updates. Use a Group Policy to enable per machine software assignment.