Use the Update window to check for updates, view previous Open Dental versions, and more.
In the Main Menu, click Help, Update.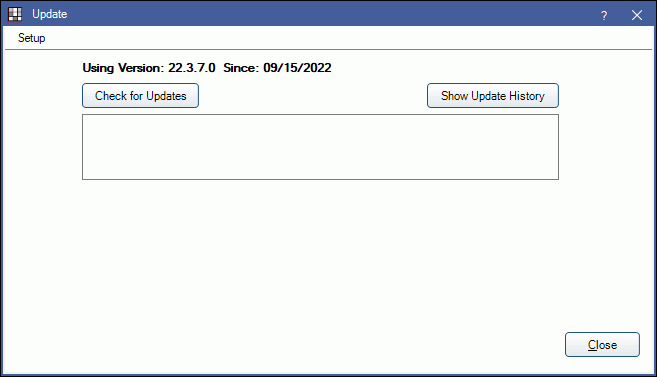 To update Open Dental versions, the practice must be on support and have a unique registration key. If your practice is no longer on support and would like to update, contact Open Dental Support to sign back up for support.
This window is not accessible to Open Dental Cloud users. Open Dental is updated automatically for Open Dental Cloud users or users can contact Open Dental Support to schedule an appointment to update.

See our video: How to Update Open Dental to a New Version
Recommendations:
Update to the latest stable version to take advantage of the latest features.
Set a specific computer to run updates from in Miscellaneous Setup, Update Server Name. This can prevent accidental updates and is especially important when using eServices or HL7, or when there are multiple locations.

We recommend running updates from the server to avoid possible network permission issues.
When using eServices, always update from the computer where the eConnector is installed.
When using HL7, always update from HL7 server.
If using replication, see Replication: Update Open Dental Version for update instructions.
Setup: See Update Setup.
Using Version: Shows the current version of Open Dental and the date the update to that version was done.


Check for Updates: View the list of available updates. The updates that display depend on the current version. Only visible when user has the Update Install permission.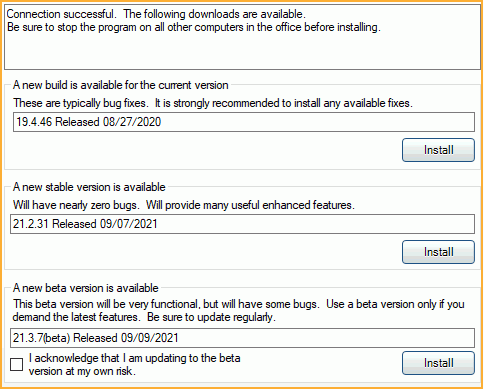 Up to three available versions will list.
New build for current version: A minor build update for the currently installed version. Includes all of the latest bug fixes for the version.
New stable version: This version has gone through the beta testing phase and is considered stable. It will contain new and enhanced features. If the latest stable version is already installed, this option will not be available.
New beta version: This version will contain the newest features, but will likely have some bugs. It is available to all practices, but should only be installed if the practice is willing to take a small risk. We recommend updating to the newest build regularly if this option is chosen. If the latest beta version is already installed, this option will not be available.

I acknowledge that I am updating to the beta version at my own risk.: Check this box to verify updating to the beta version is done intentionally.
Install: Click Install next to the desired version to initiate an update. See Install Update for details.
Show Update History: Click to view a history of downloaded updates.