In the Main Menu, click Help, Update.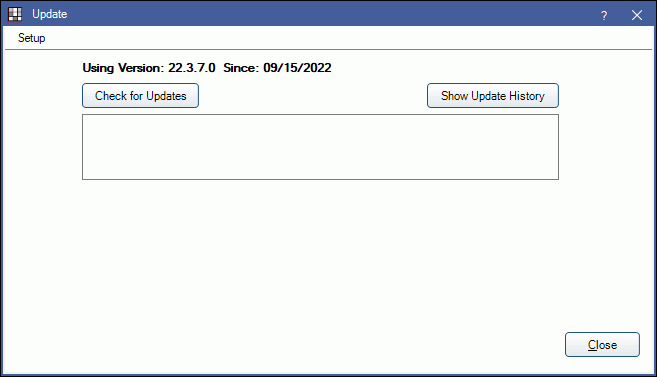 Using Version shows your current version of Open Dental and the date the update to that version was done.
To update Open Dental versions, your location must be on support and have a unique registration key.
Recommendations:
Update to the latest stable version to take advantage of the latest features.
Set a specific computer to run updates from in Miscellaneous Setup, Update Server Name. This can prevent accidental updates and is especially important when using eServices or HL7, or when you have multiple locations.

We recommend running updates from the server to avoid possible network permission issues.
When using eServices, always update from the computer where the eConnector is installed.
When using HL7, always update from HL7 server.

See our video: How to Update Open Dental to a New Version
Install an Update (new build, new stable, new beta)
Before updating, the Open Dental program must be shut down on all computers. This process can be completed automatically using the shutdown tool that opens when you click Install.
Setup: Enter your registration keys. Usually you will only do this when you first install the full version of Open Dental. See Update Setup.
Click Check for Updates to check for eligible updates. A list of available downloads will populate.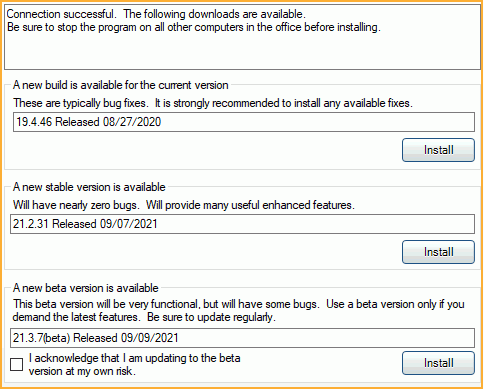 Click Install next to the version you want to install.
New build for current version: A minor build update for the currently installed version. Includes all of the latest bug fixes for the version.
New stable version: This version has gone through the beta testing phase and is considered stable. It will contain new and enhanced features. If you have already installed the latest stable version, this option will not be available.
New beta version: This version will contain the newest features, but will likely have some bugs. It is available to all practices, but should only be installed if you are willing to take a small risk. We recommend updating to the newest build regularly if you choose this option. If you have already installed the latest beta version, this option will not be available.
I acknowledge that I am updating to the beta version at my own risk.: Check this box to verify you are intentionally updating to a beta version.
For users with an active registration key, the most recent versions are always available for install. If you do not have an active registration key (no longer on support), you can only install versions that were available as of the date the key became inactive.
Any announcements associated with the update will show. Read carefully before proceeding.
Note:
Once you install and run the update, all other computers will automatically update when the program is first opened so you can easily keep all your computers updated.
If you update from a computer that is running a higher version of Open Dental than the database (server) it connects to, the server will also update and other workstations connected to the server will update the next time they start Open Dental.
Usually Open Dental will automatically backup the database during an update as a preventive measure. Large enterprise organizations that update often and have a comprehensive backup strategy can contact Open Dental technical support to disable this process.
Automatic backups during the update process are generated in the MyISAM format. If you ever need to restore from an automatic backup after a failed update, offices that use InnoDB will need to repeat the DB conversion process.
Update in Progress: If anyone attempts to launch Open Dental during an update, they will receive a notification that an update is in progress. Typically the user should wait a few minutes, then click Try Again.
An Override button will be visible on the computer that started the update or on admin computers listed in FreeDentalConfig.xml. Click to stop the update and launch Open Dental.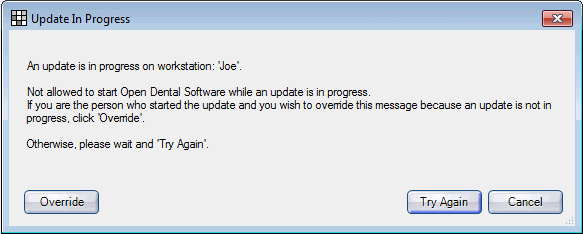 View a History of Updates
To view a historical list of version updates (16.1 and greater), click Show Previous Versions on the Update window.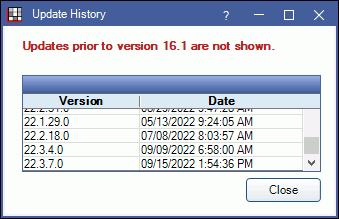 Updates for Enterprise Users
Enterprise users who do not allow normal users to have administrative privileges and prefer to centrally manage all software updates can use the standard Windows solution for pushing updates. Use a Group Policy to enable per machine software assignment.
Updates for Foreign (Non-U.S.) Users
Foreign releases of beta versions require additional time for bug testing, so users outside the U.S. may note a delay.
Troubleshooting
When I run Setup.exe, the first screen gives three options of Modify, Repair, and Uninstall instead of notifying me it is updating (e.g. from 5.4.18.0 to 5.4.19.0).
Click cancel and try the download again. It is just trying to reinstall the version you already have installed. You will run into issues like this if you take a copy of your database home. When you run Setup.exe on your home computer, it will try to update the program, but might not have access to the most recent download. If you switch databases (Choose Database window), it may not be able to locate the Setup.exe depending on Data Paths setup. If you install the update from a disk, you won't even use the window above.
When updating a second computer, I receive the message "The expected version information was not found in this file "\OpenDentImages\UpdateFiles\Manifest.txt. There is probably a permission issue on that folder which should be fixed."
On the first computer (where the update did work), right click on the Open Dental icon and Run as Administrator. Click Help, Update, then click Setup in the upper left. On the Update Setup window, click Recopy. Return to the second computer and try the update again.
When updating, I receive the message "The remote server returned an error: (403) Forbidden."
Update the Website Path for Updates field to point to https://www.opendental.com/updates/
Update fails and the database becomes corrupt.
Revert back to an older version. Older version setup.exe files are usually located in the OpenDentImages\SetupFiles folder. Follow these steps.
Log every workstation out of Open Dental.
Stop the MySQL service.
Rename the corrupted database (include the version number in the name).
Locate the backup made during the update and make a copy of it. Rename the copy with the same name as the original database. If you have trouble renaming the database, you may need to pause or stop backups or antivirus software.
Move the renamed database to the original database path.
Restart the MySQL service.
Uninstall Open Dental.
Run the Open Dental setup.exe file for older version.
Verify everything is working on server.
Log into every workstation. The Open Dental version on the workstation should still be the 'old' version. If not, then repeat steps 7 and 8 on the workstation.
Receive a warning error during an update that you will lose data, with an option to continue or abort.
If you choose to continue and want to retrieve lost data, contact Open Dental support and request an escalation to an engineer.