This Unearned Income Report shows details for unearned income activity in a date range.
In the Unearned Income Reports, click the Line Item Unearned Income tab.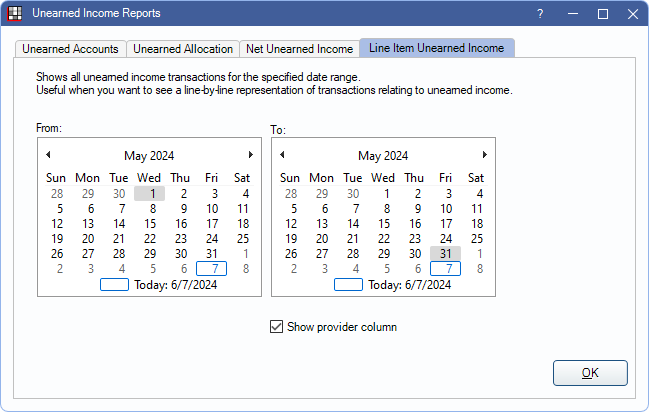 Positive Unearned / Prepayment amounts on this report indicate either a collected prepayment or a patient payment transferred to unearned income, within the selected date range. Negative amounts indicate unearned has been allocated to a charge, has been refunded, or transferred to another source.
Calendars: Select the date range to run the report. Choose the start date in the first calendar and the end date in the second calendar. The default date range is the previous month.
Show provider column: (optional) Uncheck to hide the column of providers allocated to each prepayment. When checked if a provider is not allocated to a prepayment, the column is blank.
Clinic: Filter by clinic(s) attached to Paysplit. Check All (Includes hidden) to select all clinics, including those that are hidden, and include Unassigned unearned income not allocated to a clinic.
Click OK to generate the report.