In Procedure Codes, at the lower left, click Tools.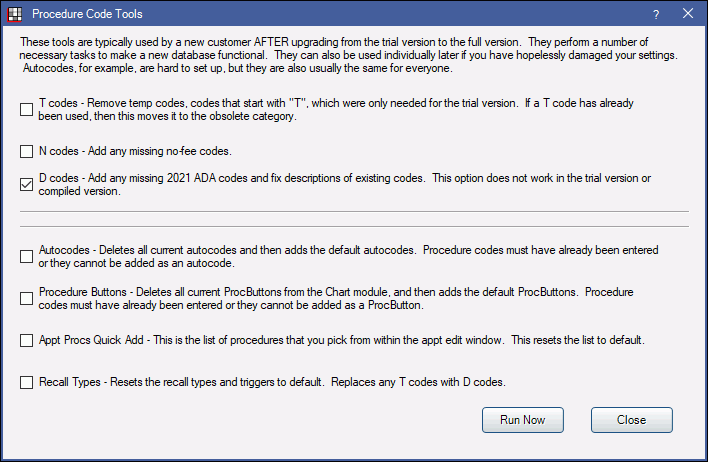 Procedure Code Tools should be run in the following situations:
Immediately after updating to the full version from the trial version. The trial version comes with T (temp) codes instead of D codes. Check all boxes to remove the T codes, add missing D and N codes, and reset defaults. See Update to Full Version.
To reset default auto codes, recall types, procedure buttons, and/or appt proc quick add procedures.
To update CDT Codes each calendar year.
Note: Use caution when selecting and running tools so you do not accidentally reset customized autocodes, procedure buttons, appt proc quick adds, or recall types. The Security Admin Permission is required to run procedure code tools.
Check the box next to the tools you want to run. Uncheck a box to deselect a tool.
T codes: Remove all temp codes (T) that were installed with the Trial version.
N codes: Add missing no-fee procedure codes.
D codes: Add missing CDT codes and set descriptions to the defaults. CDT codes that are no longer in use will remain in their existing categories.
Autocodes: Delete all existing auto codes and reset the default Auto Codes. Procedure buttons will be dissociated from the deleted auto codes.
Procedure Buttons: Delete all existing procedure buttons, then add the default Procedure Buttons.
Appt Procs Quick Add: Reset the list of Quick Add procedures on the Edit Appointment to defaults.
Recall Types: Reset default Recall Types and triggers. Any trigger T codes will be replaced with D codes.
Click Run Now to run all selected tools. A message will indicate when updates are done.