In the Main Menu, click Lists, Problems.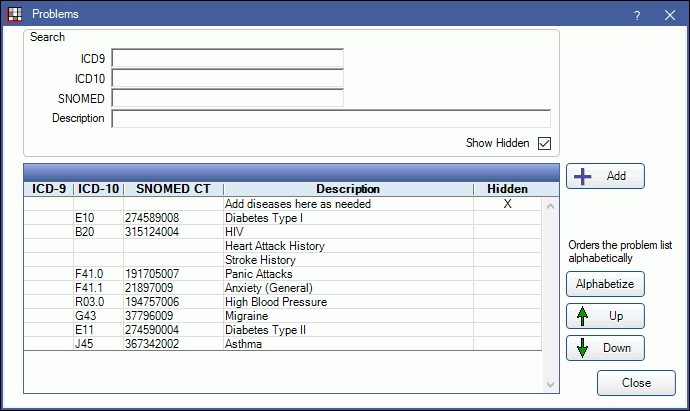 Alternatively, in the Medical, Problems tab, click Add Problem.
The master problem list contains all problems that can be attached to a patient's problem list. Problems are medical conditions or other factors that affect the health of patients.
Search: Filter the list by ICD9, ICD10, or SNOMED CT code, or by description. As you enter criteria, the list will update with matching results.
Sort Options: If accessed via the main menu, problems can be reordered or sorted alphabetically.
Use the Up/Down arrows to reorder individual problems.
Click Alphabetize to sort the current list of problems alphabetically by description.
Show Hidden: When accessed via the Lists, Problems menu, problems marked Hidden show in the list by default. To unhide hidden problems, uncheck Show Hidden.
Add or edit a problem
To download code systems to associate to problems, see Importing Code Systems.
For EHR:
Problems assigned to patients must be associated with a SNOMED CT. This causes it to show on a Summary of Care
If you create a none problem, also select this problem as the Indicator that patient has no problems in Chart Module Preferences.
Click Add, or double-click a problem to edit.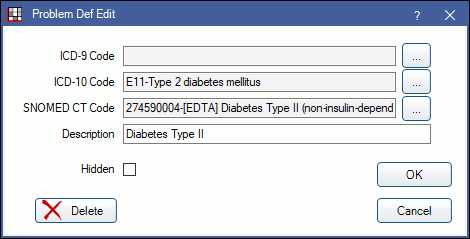 Problems can also be added to the master list while editing a Medical History Sheet.
ICD-9 Code: Click [...] to associate the problem with an ICD-9 Code. See ICD-10 Codes.
ICD-10 Code: Click [...] to associate the problem with an ICD-10 Code. See ICD-10 Codes
SNOMED CT Code: Click [...] to associate the problem with SNOMED CT Codes.
Description: Enter the identifying name of the condition.
Click OK to save the problem.
Remove a problem
To delete a problem, click Delete on the Problem Def Edit window. Problems attached to patients cannot be deleted. Instead, you can hide the problem so it is no longer a selection option for patients. Check Hidden.