Advertising Postcards allow an office to send direct mail marketing to prospective and existing patients using a compiled list of their own or by purchasing a list.
In the Main Menu, click Tools, Advertising, Postcards.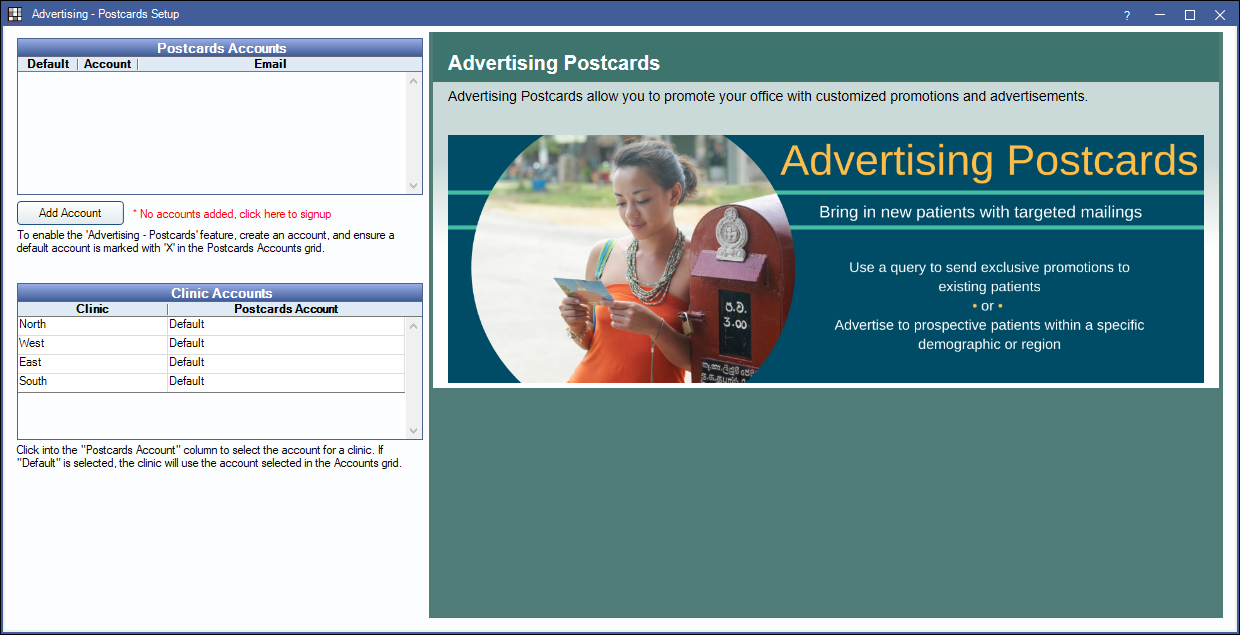 Alternatively, in Upload Postcard Recipients, click Setup.
If Advertising - Postcards is not yet enabled, the window above will display. If Advertising - Postcards is already enabled, the Upload Postcard Recipients window will open instead. By default, this page will display a preview of the Advertising Postcards Feature site page.
Post Card Accounts
To begin sending postcards, an Account must be created. Existing accounts will list in the grid. If using clinics, each clinic can have their own account, or they can share the same account.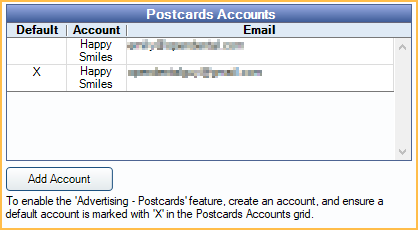 Default: Set a default postcards account.
Add Account: Click to add a new account. The following window will show.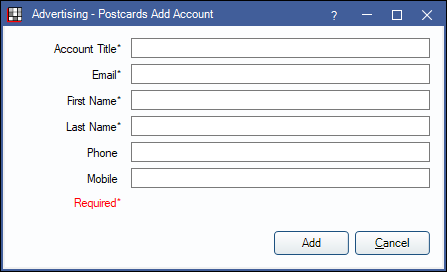 Account Title: Enter an account name. Typically the name of the office.
Email: Enter the email address to associate with the account. An email address may only be associated with one account.
First Name: Enter a first name. Typically the Dentist or Owner's first name.
Last Name: Enter a last name. Typically the Dentist or Owner's last name.
Phone: Optional. Enter a phone number. Typically the office phone.
Mobile: Optional. Enter a mobile phone number. Typically the mobile number of the person entered above.
Add: Click to create the account.
Double-click an existing account to view details.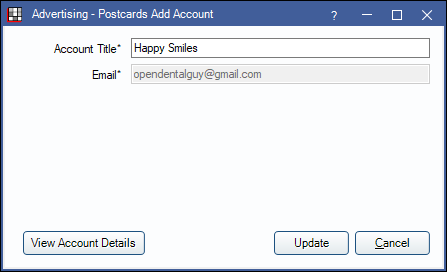 Account Title: Displays the current account title. This can be changed.
Email: Displays the email address assigned to the account. This cannot be changed.
View Account Details: Click to Send Postcards (Advertising) without a list or view account information.
Update: Click to update account title.
Clinic Accounts
This grid only displays when Clinics is enabled.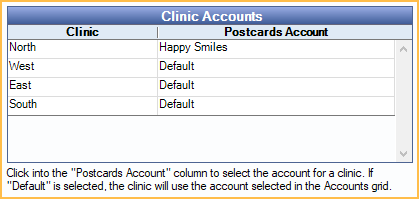 Click into each clinic to assign a specific postcard account or use the default account.
Troubleshooting
Error when Viewing Account Details.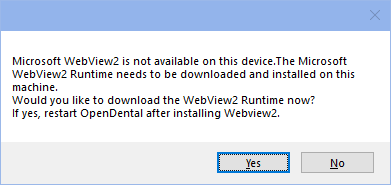 Microsoft WebView2 is required to use Advertising Postcards. Click Yes to install. An internet browser will open the Microsoft website and automatically download WebView2. Run the installer. This only needs done once per workstation.