In a Patient Payment Plan, click View Tx Credits.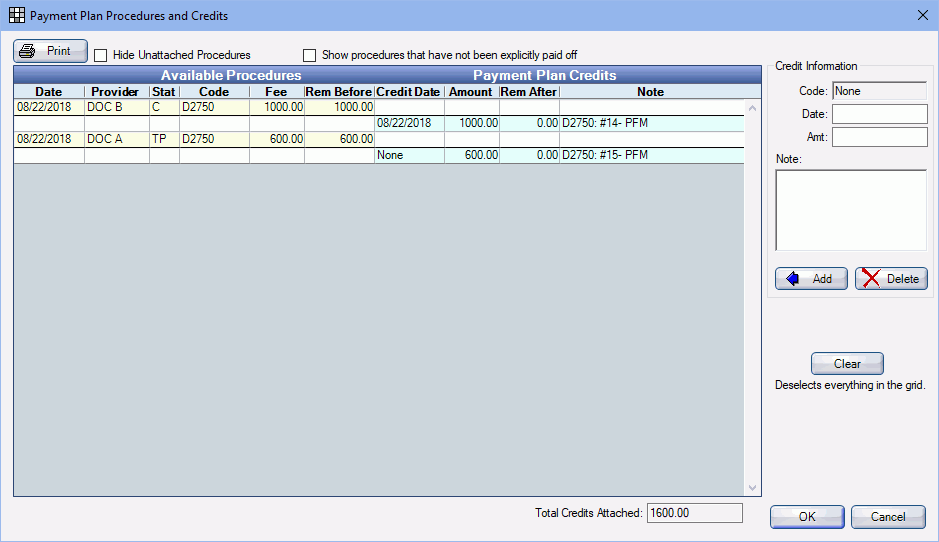 Associate procedures to the payment plan. The total amount of credits attached determines the amount subtracted from the patient balance (PayPln: Credit).
Print: Print a list of the procedures and credits that currently show in the Available Procedures/Payment Plan Credits grid.
Hide Unattached Procedures: Only show procedures that are already credited to this plan.
Show procedures that have not been explicitly paid off: Only show procedures with an estimated patient portion after insurance estimates, write-offs, and explicitly attached adjustments and payments are applied. Unallocated adjustments, insurance or patient payments are not included in the Rem Before amounts. Alternatively, run the Income Transfer Manager.
Available Procedures: View all treatment planned and completed procedures that have a remaining patient portion due (yellow).
Date: The procedure date.
Provider: Abbreviation of the provider assigend to the procedure.
Stat: The status of the procedure. C = complete. TP = treatment planned.


Note: Payments cannot be made to payment plan charges linked to treatment planned procedures if Paysplits is set to

Rigorous

in

Allocations Setup

.

Code: The procedure code.
Fee: The original procedure fee.
Rem Before: The estimated patient portion after insurance estimates, write-offs, adjustments, and payments. This includes adjustments or payments not explicitly attached to the procedure but are applied using first in/first out logic (FIFO). FIFO logic is not applied to treatment planned procedures.


Note:

For treatment planned procedures, Rem Before includes Discount Plan adjustments but not TP Procedure Discounts. Manually enter the correct amount after TP procedure discounts when adding the procedure to the plan.
To ensure the Rem Before amounts are as accurate as possible, run the Income Transfer Manager before creating payment plan credits. Any unallocated income and adjustments (including insurance payments entered using the As Total option) will transfer to procedures, updating the Rem Before amounts.
Payment Plan Credits: View all credits (blue) attached to this plan.
Credit Date: The date the credit will appear on the account.
Amount: The total amount of credit applied. Typically the Rem Before and Amount will match.
Rem After: If attached to a procedure, the remaining amount due on the procedure after the credit is applied. Typically it will be zero.
Note: The note entered with the credit information (see below).
Payment plan adjustments show as credits on the date they are created and include an adjustment note.
Credit Information: Add, update, or remove credits in the Payment Plan Credit column. Credits can be attached to available procedures or unallocated (not recommended). If unallocated, payment plan payments will not be split to specific adjustments or procedures.
Note:
Adjustments must be attached to procedures (e.g. finance charges or sales tax) in order to include them in the payment plan principal balance.
Payments can only be made to payplan charges when credits are attached to procedures if Paysplits is set to Rigorous in Allocations Setup.
To add a credit for a procedure, highlight the procedure first. The credit fields will populate with the procedure information. Modify if needed, then click Add. A procedure can only be attached to one payment plan. It cannot be attached to both a patient payment plan and dynamic payment plan.
To add an unallocated credit, make sure no procedures are highlighted (click Clear). Enter the credit information and click Add.
To update an existing credit, first select it. Add will change to Update. Modify information as needed, then click Update.
Note: Updating a payment plan adjustment will not automatically update the amortization schedule or the patient account. Manually update the adjustment in these places.
To remove a credit, highlight it then click Delete.
When you click OK, if a procedure's provider is different than the payment plan's provider, Open Dental will warn you. If you proceed (click Yes) the payment plan provider will be assigned to the pay. Future payment splits, however, will be allocated to the procedure provider when the Paysplits Allocations Setup preference is set to something other than Rigorous. Income transfers may also be incorrect. See Payment Plan Q and A.
Reversals
Open Dental does not currently support automatic reversals for attaching payment plan credits to payment plans, but reversals can be made manually.