For patients without insurance, a Discount Plan can be added to offer office defined discounts.
In the Family Module toolbar, click Discount Plan.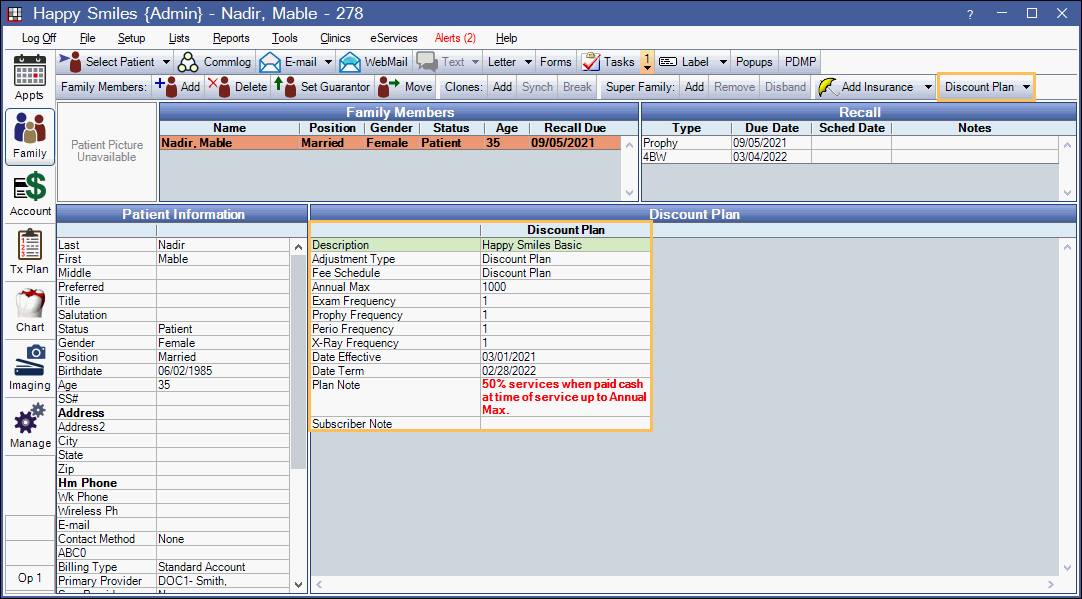 Select from the Discount Plans list to add to the patient. It will list under a Discount Plan area (replaces the Insurance Plan area). Discount Plans cannot be attached to patients who have insurance.
Double-click in the Discount Plan area to change the plan's description, adjustment type, or fee schedule.
View Discount Amounts in the Treatment Plan Module
In the Treatment Plan module, fee estimates will consider the discount plan. To show the discount amount in the Procedures grid:
Add DPlan to TreatmentPlanModule in Display Fields.
In the Treatment Plan, double click the unsaved Treatment Plan (active or inactive), and set the Plan Type to Discount.

Drop a Discount Plan
There are two ways to drop a discount plan from a patient:
In the Family Module, select the patient, double click the discount plan area, then click Drop on the Discount Plan Edit window.
In the Family Module, select the patient, then click the Discount Plan dropdown, Drop Discount Plan.