In Edit Patient Information, near the center, is a list for Family Relationships.

This is not a commonly used option, however a relationship may determine who is considered an Authorized Representatives in the patient portal.
Add: Add a family relationship.
Defaults: When clicked, the following occurs:
Deletes all current relationships.
Takes oldest female in the family and makes her the mother for all family members with position of Child.
Takes oldest male in the family and makes him the father for all family members with a position of Child.
The relationships will automatically be applied to all family members.
Manually Add a Relationship
Manually entered relationships do not automatically copy to other family members.
Click Add.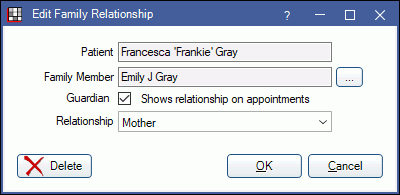 Patient: The patient record currently selected.
Family Member: Click [...] to pick a family member. You can select from immediate family members, or click Other to select another patient.
Guardian: Check this box designate the family member as the patient's guardian. The family member will have access to the patient's health information in the Patient Portal Feature. The relationship will also show in the appointment and in the Family Module, Patient Information area (first name, relationship abbreviation). For appointments, guardians must be set to show in the appointment view. For Patient Information, add the Guardians field to the list of fields showing in Display Fields, PatientInformation.
Relationship: Click the dropdown to select the family member's relationship to the patient.
Brother (br)
Caregiver (cg)
Child (c)
Father (d)
Foster Child (fc)
Friend (f)
Grandchild (gc)
Grandfather (gf)
Grandmother (gm)
Grandparent (gp)
Guardian (g)
Life Partner (lp)
Mother (m)
Other (o)
Parent (p)
Self (se)
Sibling (sb)
Sister (ss)
Sitter (s)
Spouse (sp)
Stepchild (sc)
Stepfather (sf)
Stepmother (sm)
Click OK to save.