In the Email Message Edit window, at the bottom, click the Certificate button.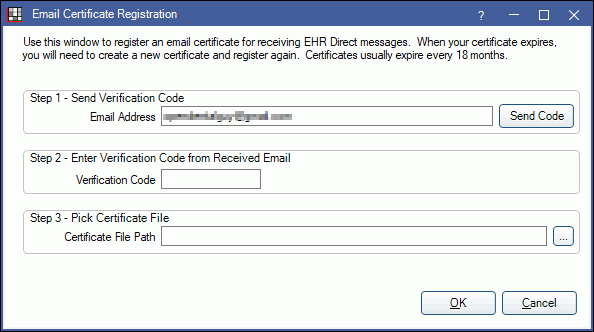 To send secure email using Direct Messaging, the public email certificate must be hosted in DNS. Open Dental offers public email certificate hosting or you can host the public certificate elsewhere. To obtain a certificate, see Email Certificate.
To host the certificate with Open Dental, you must register the certificate using the registration tool. One certificate can be registered for a particular email address at one time.
Click Send Code. You will see the following message once the code is successfully sent.


The email may take a few minutes to show up in your Email Inbox. Open the email to see the verification code. It will look similar to the following:
Subject: Email Certificate RegistrationFrom:emailregistration@opendental.comDate:Mon, Jan 05, 2015 3:22 pm To:derek@opendental.com This email has been sent to help you register your email address for use with certificate hosting. Please do not reply to this email. The verification code below will expire in one hour. The verification code below will also expire if another verification code is requested. Your verification code is: IOJHO4
Select and copy the verification code. Open the Email Certificate Registration window and paste the code into the Verification Code box.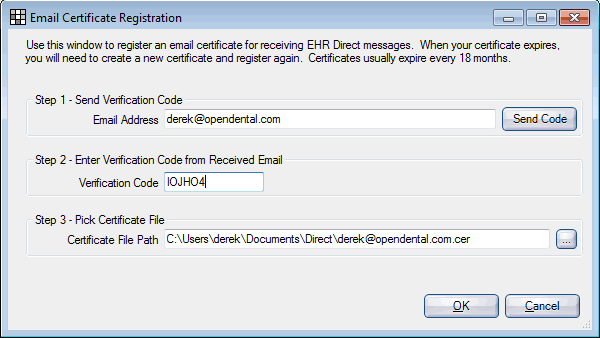 For Step 3, click [...] to browse for and select your public certificate file.
Click OK. You will see the following message once the certificate is successfully registered.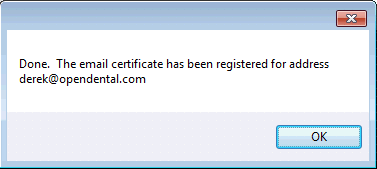 Click OK to close the message.
Certificates usually expire every 18 months. When your certificate expires, you will need to create a new certificate and register again. When you upload your new certificate, the old one will be overwritten.
Troubleshooting
Receive error: Email certificate was not registered. Invalid certificate. Cannot find the requested object.
Contact Open Dental.