Encrypted Email is obsolete. Open Dental now offers Secure Email, the easiest and most secure method to communicate with patients and outside providers via email. Encrypted Email was a previous method for secure communication. While still available, it is complex to set up and is not recommended. The information below is available as a reference but may not be up-to-date.
To host the certificate with Open Dental, register the certificate using the registration tool.
In the Email Address Edit window, at the bottom, click Certificate.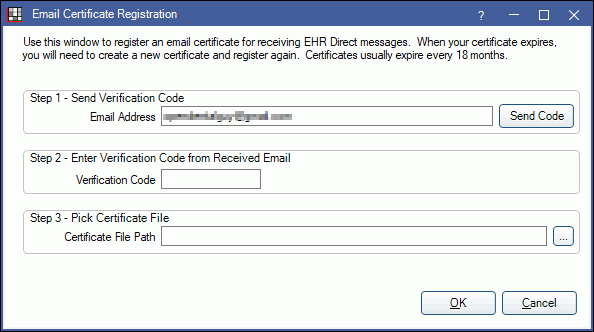 To send secure email using Direct Messaging, the public email certificate must be hosted in DNS. Open Dental offers public email certificate hosting or you can host the public certificate elsewhere. To obtain a certificate, see Email Certificate.
Follow these steps to register the certificate:
Verify the Email Address entered. One certificate can be registered for a particular email address at one time.
Click Send Code. An email will be sent the address with a verification code.
Copy the verification code from the email to the Verification Code field.
Enter the Certificate File Path. Click [...] to browse to and select the public certificate file.
Click OK.
Certificates typically expire every 18 months. When a certificate expires, create a new certificate and register again. Old certificates will be overwritten.