In the Payment window, in the Credit Card Payment area, click Global Payments Integrated.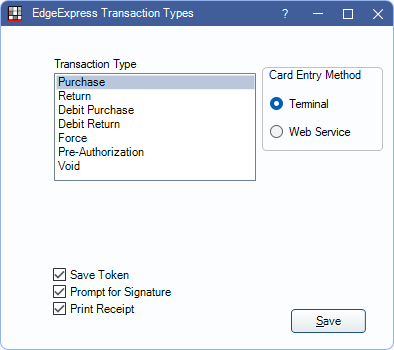 EdgeExpress Transaction Types
Select the transaction to process, then the card entry method.
Card Entry Method:
Terminal: Use the terminal to swipe the patient's card.
Web Service: Type in the patient's card number and expiration date.
Transaction Types: Refer to the OpenEdge user manual for details on each type.
Purchase: A standard credit card charge. See Credit Card Payment.
Return: Credits the amount of the transaction to the card. See Credit Card Return.
Void: Reverse a sale the same day it was made.
Save Token: Securely store the credit card number and expiration date as a token for future use. Set the default in Preferences, Automatically store credit card tokens.
Prompt for Signature: Prompt patients for a signature on the credit card terminal before completing the transaction. Terminal must support electronic signature capabilities.
Print Receipt: Automatically print a receipt to the default receipt printer when the transaction is completed.
Click OK to continue the transaction.
Additional Resources
Related Links: