Saved treatment plans can be sent to eClipboard for patients to review and sign.
In the Treatment Plan Module, highlight a saved treatment plan. Click the eClipboard button.

Also see:
Patient Currently in Session
If a patient is currently in an eClipboard session, highlight the Saved Treatment Plan then click eClipboard. The Treatment Plan will be added to their Check-in checklist.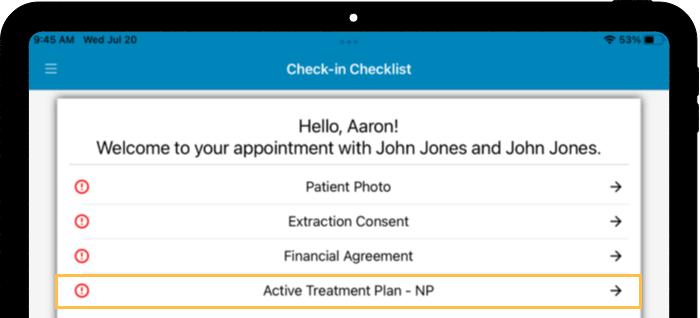 Patient Not in Session
If the patient is not currently in an eClipboard session, the treatment plan can be sent to the device.
In the Treatment Plan Module, select the Saved Treatment Plan, then click eClipboard.

The following window will show.

In eClipoard, click the QR icon.

Either use the device camera to scan the QR code, or type in the unlock code.
The treatment plan will populate in eClipboard.

Signing the Treatment Plan
All selected treatment plans will list for review. The Full Screen button in the top-right can be used to zoom in on the treatment plan. Any edits and changes made to the treatment plan in Open Dental will reflect in the app in real-time.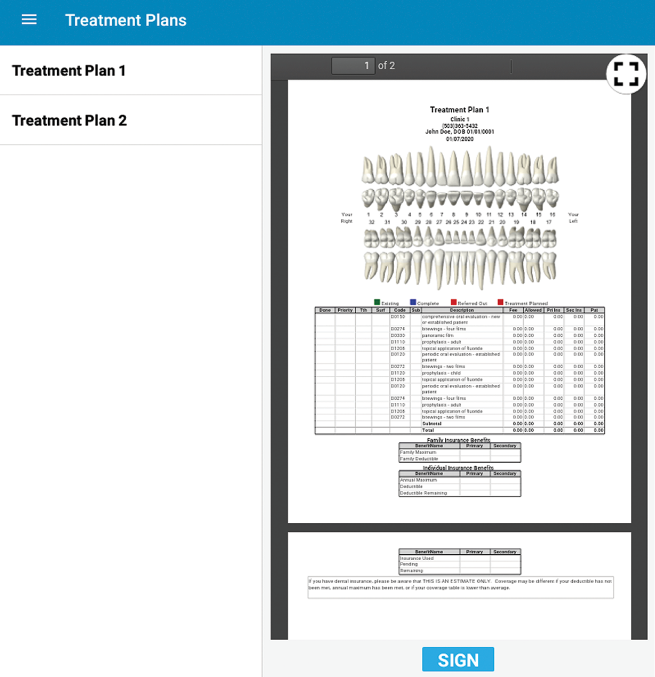 Once the patient has made a decision, they can press the sign button to digitally sign and save the treatment plan.
Open: When a treatment plan is selected, an Open button will appear in the upper left. If the treatment plan is unable to display, use this button to launch the treatment plan as a pdf so it can be viewed outside eClipboard.
Saving Treatment Plans
Before treatment plans signed via eClipboard can be saved, Microsoft Visual C++ 2015 Redistributable Update 3 must be installed on the server.
Treatment plans signed via eClipboard are automatically saved to the Imaging Module if the Treatment Plan Module Preference Save signed Treatment Plans to PDF is enabled, and the OpenDentImages folder is using network file storage, Dropbox, or SFTP (cannot be a local folder).
Updating Treatment Plans
Treatment plans can be updated while still loaded to the eClipboard device. Simply make the edits to the saved treatment plan in Open Dental, then click eClipboard. Updates will reflect in eClipboard.
To remove a treatment plan currently loaded to eClipboard, in the patient's Treatment Plan module, click the X next to the saved treatment plan in the Treatment Plans grid.