When attempting to automatically match an Electronic EOBs (ERA 835s) with a claim, Open Dental looks for this criteria:
Claims with a matching date of service and claim fee.
Claims with a matching claim identifier (it must be an exact match or partially match at least the first 15 characters of the ERA Claim Identifier) OR claims with a matching patient first name and last name (not case sensitive), with an exact subscriber ID match or partial match of all but the last 1 or 2 characters. Claim identifiers are viewable on the Edit Claim - Misc Tab.
If Open Dental can't automatically find matching claims for an ERA, when you attempt to verify claim amounts you will receive a message.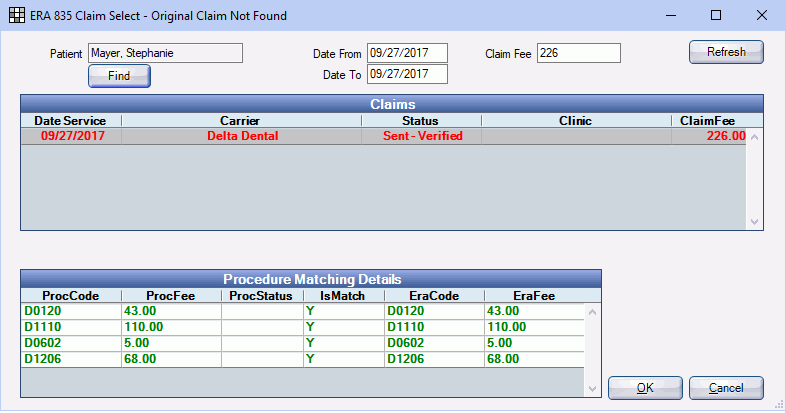 Click OK to try and manually match the claim. First select the patient. A list of the patient's claims will show.

Double click on a claim to view it. To select a claim, highlight it then click OK.
Click Find to select a different patient.
To filter the list by date range, enter a Date From and/or a Date To, then click Refresh.
To filter the list of by fee amount, enter the Claim Fee, then click Refresh.