For Canada users, click Lists, Insurance Carriers.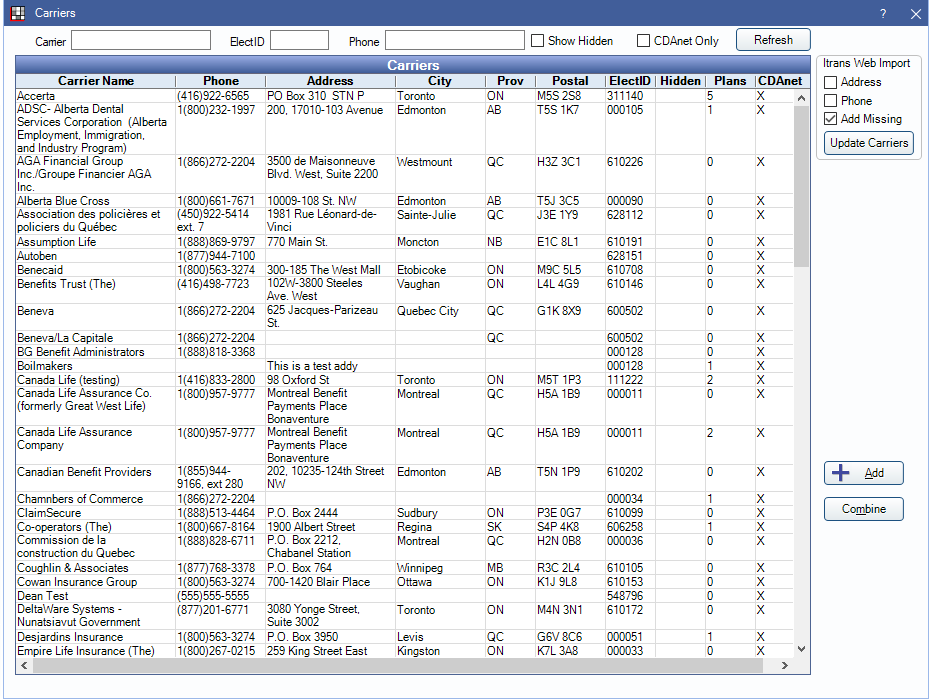 Carriers are automatically populated and easily maintained. Insurance carriers marked as CDANet are capable of sending electronic claims to ITRANS or Claimstream (TELUS).
Search criteria:
Carrier: Search the list by carrier name.
Phone: Search the list by carrier phone number.
Show Hidden: Check to include carriers marked as hidden.
CDAnet Only: Check to only show carriers marked as CDANet.
Click Refresh to update the list.
To update your Carriers list, select your criteria and click Update Carriers.This button is for ITRANS 2.0 and Claimstream users only.

Name: Update carrier names.
Address: Update carrier addresses.
Phone: Update carrier phone numbers.
Add Missing: Add any missing CDANet carriers.
Note: To only update CDANet information (e.g. transaction type, carrier network, version, etc), keep all boxes unchecked and click Update Carriers.
Click Add to add a new carrier. All CDANet carriers are imported with the carrier update and should not be added manually.
Click Combine to merge duplicate carriers. Also see Combine Carriers.
Double-click on a carrier to view carrier information and CDANet information.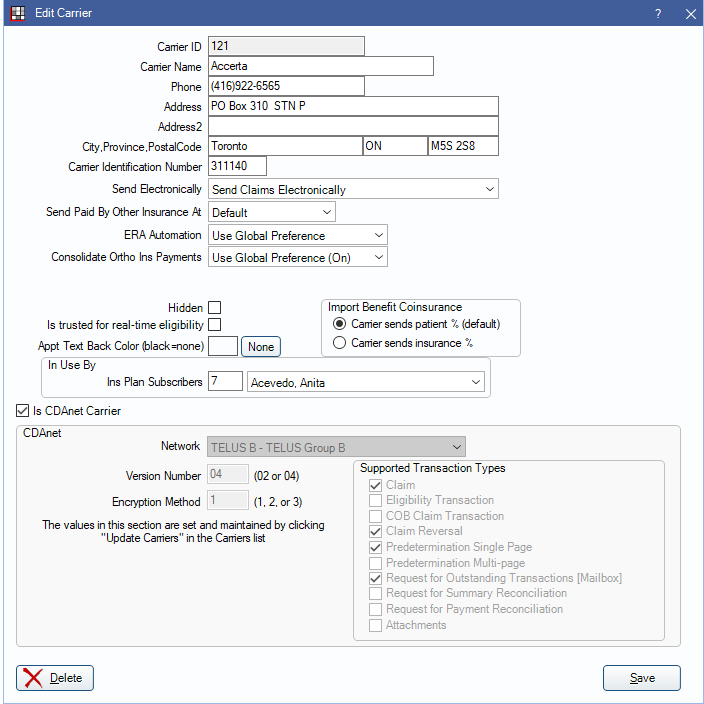 The Carrier information in the top half is editable by the office.
The data under CDAnet is maintained by the CDA. This information is updated when running the Update Carriers tool as noted above.
The following carriers are supported by ITRANS: http://www.goitrans.com/itrans-support-carrier-listing/
Detailed carrier information can be found on the CDA website: http://cda-adc.ca/en/services/cdanet/networks_insurance_new/#/
Note: October 8, 2019 Note for our Canadian Customers:
We are aware of issues regarding the ClaimSecure carrier. You may receive an "Input string was not in a correct format" error when sending claims.

Claims are going through to ClaimSecure, however you are not able to view EOB or Acknowledgment responses. You may send predeterminations prior to sending the claim to view payment information.

To send a predetermination, please contact Open Dental who will assist in updating the ClaimSecure carrier. We will be reaching out to customers who have contacted us with this issue.