Enable eRx to utilize an eRx service for the practice or specific clinics.
In the Main Menu, click Setup, Program Links, eRx.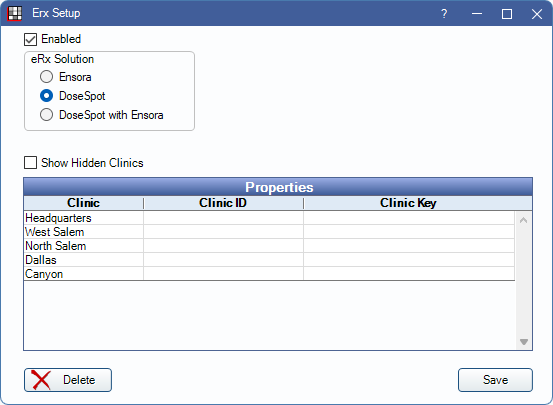 Enabling eRx incurs an additional fee. See Fees for Support and Services for details.
Enabled: Check to enable eRx. Additional setup is required before sending electronic prescriptions is allowed.
eRx Solution: Select the eRx solution the practice is using. Window options vary depending on the selected solution.
Delete: Select a clinic from the Properties list and click to delete clinic properties. A warning will appear confirming to delete the selected row. Click OK to delete or Cancel to discard changes.
NewCrop
Select NewCrop when using NewCrop eRx as the service for the practice.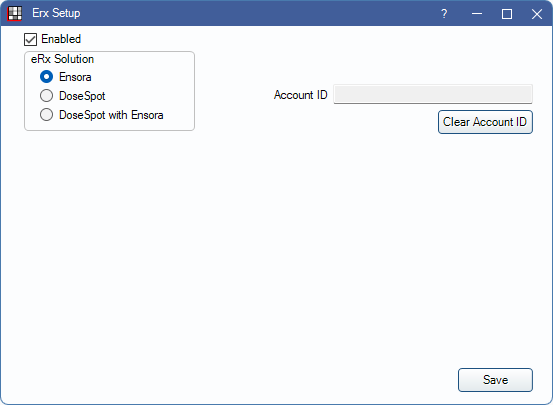 Account ID: Automatically populates when NewCrop is enabled.
Clear Account ID: Used by Open Dental HQ only. Used to update accounts as needed.
DoseSpot / DoseSpot with NewCrop
Select DoseSpot when using DoseSpot eRx as the service for the practice. Select DoseSpot with NewCrop when using a mix of both services for the practice. Both options display the same set of fields.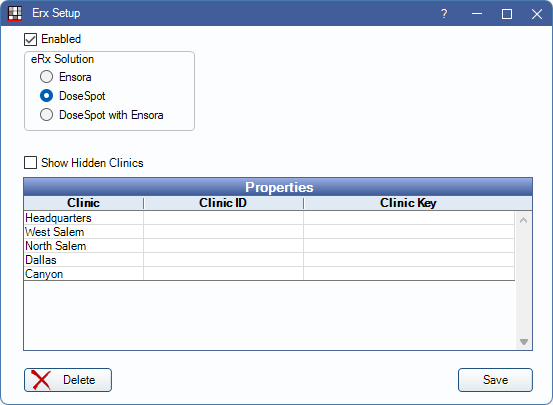 See DoseSpot Setup for full setup instructions.
Properties: Enter the Clinic ID and Keys for each clinic utilizing eRx.