In the Appointments Module, in the Toolbar, click Print.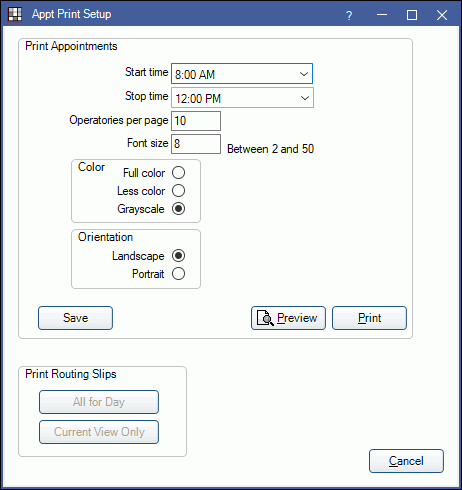 The current setting for Day or Week view will determine if a daily or weekly list is printed. Time increments and rows per increment set in appointment views can affect printing. If too many pages are still printing, increase the time increment or set the rows per increment to one.
Start / Stop Time: Enter specific times to include in the list.
Operatories per page: Directly affect how many pages will print. More operatories per page will result in fewer printed pages.
Font Size: Affects how many pages will print.
Print: Print the appointment schedule for the day. Will print the currently selected Appointment View.
Preview: Review the print output.
Save: Save settings for the next time you print.
Print Routing Slips: Print routing slips for appointments on the schedule for the selected day. Not available if Headquarters is the selected clinic, or if Week view is selected.
All for Day: Print all routing slips for appointments assigned to the selected clinic on the selected day.
Current View Only: Print routing slips for the selected appointment view.