Claims Not Sent Report
This is a report of Claims that have been created, but not sent. It can be generated for a single date or date range.
Note: To control user access to this report, see Report Setup - Security Permissions.


In the Monthly section, click Claims Not Sent.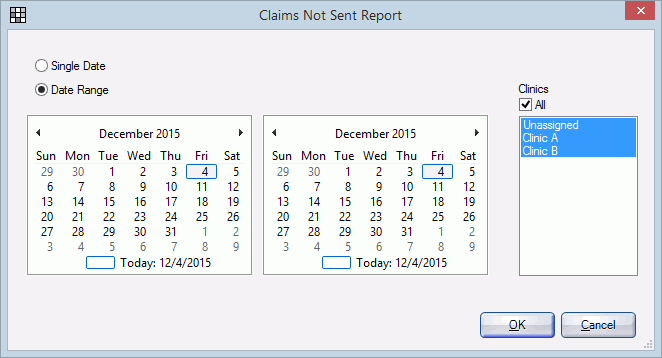 Select the report criteria.

Single Date/Date Range:
If Single is selected, one calendar shows. Click on the date.
If Date Range is selected, two calendars show. Select the the start date in the first calendar; select the end date in the second calendar.

Clinics: If using Clinics, highlight the clinics to include. Click All to select all clinics.


Click OK to generate the report.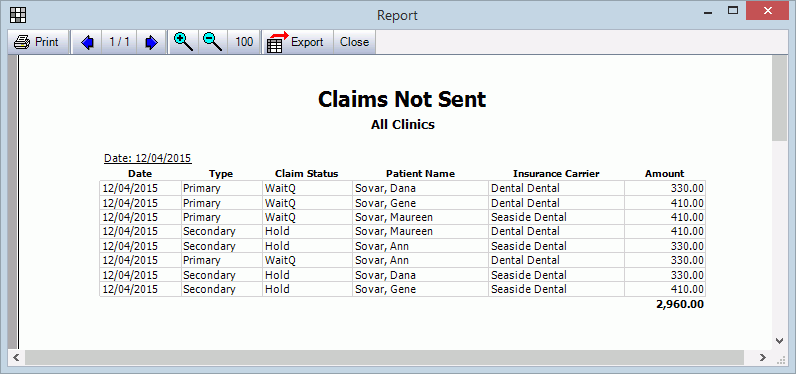 For a description of toolbar buttons, see Complex Report System.
Claim Status:
WaitQ means claim status is 'Waiting to Send' and it is waiting in the queue.
Holding means claim status is 'Hold until pri received' (secondary claims).
Unsent means claim status is 'Unsent'.