In eServices Signup, click Advanced View.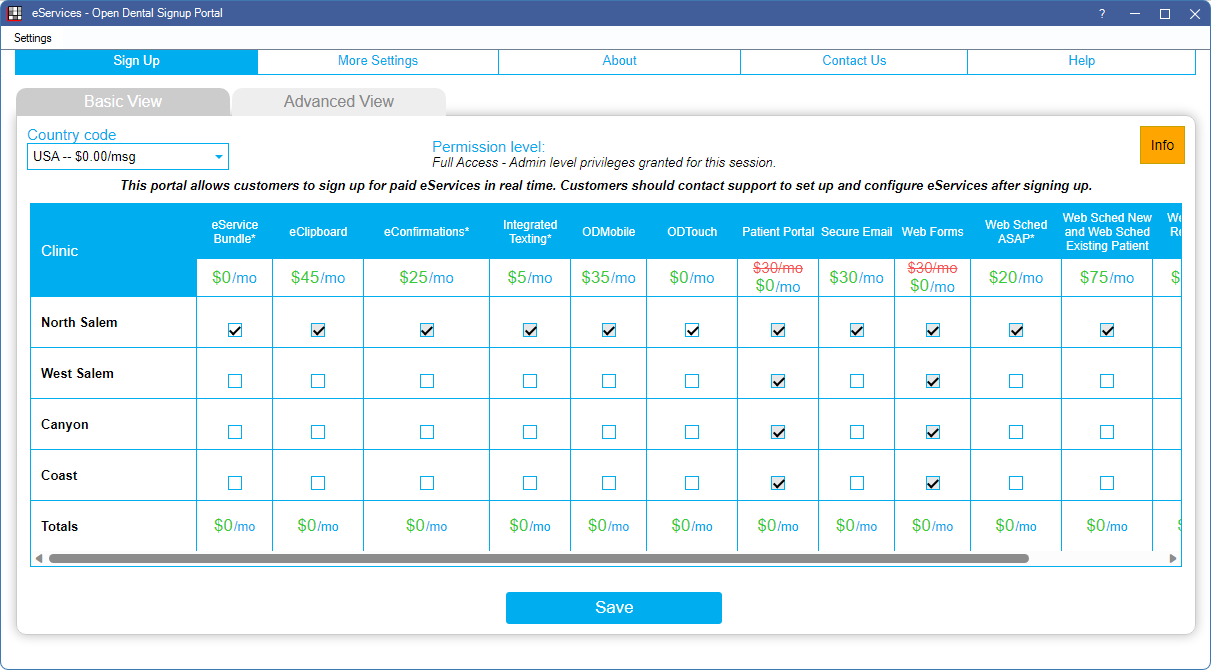 Note:
Fees displayed on the screenshot above may not be current. Refer to Fees for Support and Services for the most up-to-date pricing.
For Open Dental Cloud users, this window will open in a new web browser session.
This view opens by default when there are multiple locations/clinics.
Country Code: Used for Integrated Texting Feature only and determines texting phone number and per message fees. Select the country the practice is in. If you do not see your country, contact Open Dental support to see if the service is available.
Permission Level: The security permission level of the logged-on user. Users with the Security Admin permission have full permissions and can change eService settings. Users without this permission have read-only access.
eServices:
If there are multiple clinics, there is a row for each location. Each clinic can sign up for different eServices.
Under each eService column header is the monthly price, per location.
Hover over an eService column header to view a description and service terms.
Each checkbox indicates whether the eService is currently active, pending stop, or inactive. Click in a box to change its status.

Checked: eService is currently active. Patient Portal and Web Forms are free for those on support thus they are always active.
Unchecked: The eService is not active.Click the Info button in the upper right to view the Next Bill Date.
Totals: As you select eServices, the total $ amounts will update to reflect new charges.
Save: Apply eService changes. Charges will be reflected in your next statement.