The self-hosted web service validates that the customer is on active support at initialization (start up) and does not validate the registration key again until the web service is restarted. Hosting your own Patient Portal Feature is a highly technical process and does not require installation of the Listener Service. Open Dental does not provide support on this setup. We recommend you work with your IT professional.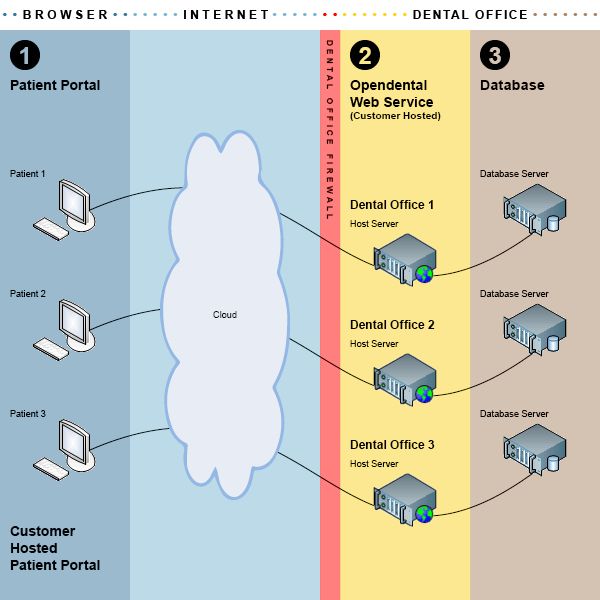 Follow these steps to host your own Patient Portal.
Update to the most current stable version.
Purchase and install a certificate from any certificate authority for a few hundred dollars. You can reuse one if you already have it.
Configure the OpenDentalWebConfig.xml file.
Change router settings and forward port 443 (https) to the computer where IIS is installed.
Allow all incoming traffic on port 443 through any applicable Firewalls.
Set up an IIS web service pointing to the Open Dental folder:

Open the IIS Manager and right click on Default Web Site, then click Add Application.
Set Alias to "OpenDental".
Set Physical Path to the folder where Open Dental is installed (e.g. C:/Program Files/Open Dental).
Click OK.

In the IIS Manager, expand Open Dental. Right click on the OpenDentalWebService folder and click Convert to Application. Click OK.

Note: This folder will only be installed on the computer where the version update is performed. Our File Copier program will not copy the folder to other computers, so always perform updates on the server.

Set up the Patient Portal URL (see below). This process only needs to be performed once.
Patient Portal Access. This process needs to be performed for each patient.
To have Open Dental host the Patient Portal, see Patient Portal.
Set up the Patient Portal URL
Open the eServices Setup window, Patient Portal tab.

In the Main Menu, click eServices, Patient Portal.
On the EHR Setup Window, click Patient Portal.
From the Patient Portal window, click Setup.

In the Patient Facing URL box enter the URL patients will use to access the patient portal.
If Using Secure Web Mail
The notification settings create the insecure notification email that alerts a patient when a Secure WebMail Feature message from the provider is waiting in the patient portal.
Subject: The subject of the notification.
Body: The notification message. Include the [URL] tag; it will be replaced with a clickable Patient Facing URL when the message is sent. Thus, the email above will look like this: Please go to this link and login using your credentials. https://www.opendental.com/login.html