Payor types refer to the system of payment (SOP code) that identifies a patient's payor status.
In the Family Module, Patient Information area, double-click on the Payor Types row.

A historical log of the patient's payor types will show. Payor types are used in some EHR Clinical Quality Measures calculations. A patient's payor type selection may determine if a patient counts in a CQM denominator.
Note: If you do not see the Payor Types row, it may need to be added to Fields Showing in
Display Fields
, Patient Information.
Click Add to select a payor type, or double-click a row to edit.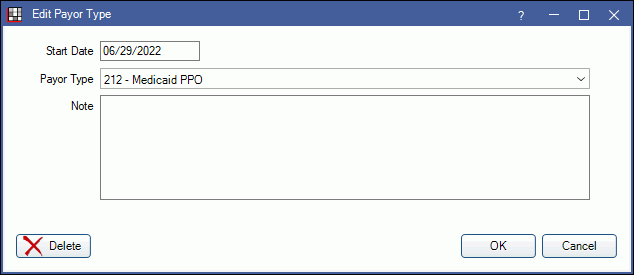 Start Date: Defaults to today's date.
The Date End for the previous payor type entry (if it exists) will be the start date of the new entry. Otherwise, the Date End will be Current.
Payor Type: A list of all SOP codes. If the list is blank, SOP codes must be downloaded. See Importing Code Systems.
Note: Enter any notes about this payor type for the patient.