Set up Grading Scales to assess student evaluations.
In Dental School Setup, click Grading Scales.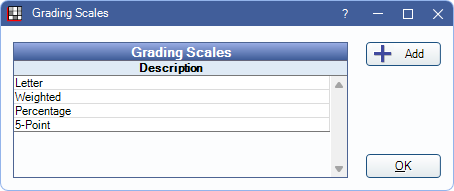 For Dental Schools, grading scales are attached to Dental Student Evaluations to calculate a grade. To set up grading scales, the logged on user must have the Setup security permission.
Click Add, or double-click an existing grading scale to edit.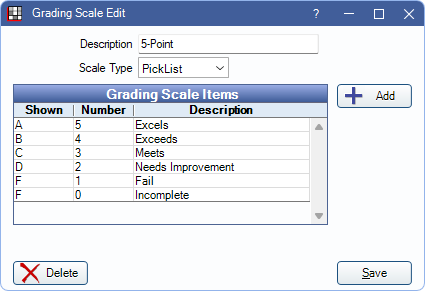 Description: Enter a grading scale description.
Scale Type: Select the type of grading scale. There are three options:

Percentage: Assumes a 0 - 100% grading scale. Instructors will manually enter percentages when filling out an evaluation.
Weighted: Used to assign different values (e.g., points) to evaluation criteria. Instructors will manually enter values when setting up an evaluation.
Pick List: Grading scale will contain a list of pick-able items (e.g., A, B, C, D, F). See below.
If Pick List is the grading scale type, enter the pick list items:
Click Add.

Enter the grading item details, then click OK to save.

Grade Showing: What shows for the student (e.g., A, B, C, D, F).
Grade Number: The number value associated with the grade.
Description: A description of the grade and value.

Repeat for each pick list item.
Click OK to save the grading scale.