Patient Dashboards can be created and edited as needed.
In the Main Menu, click Tools, Patient Dashboards, Dashboard Setup.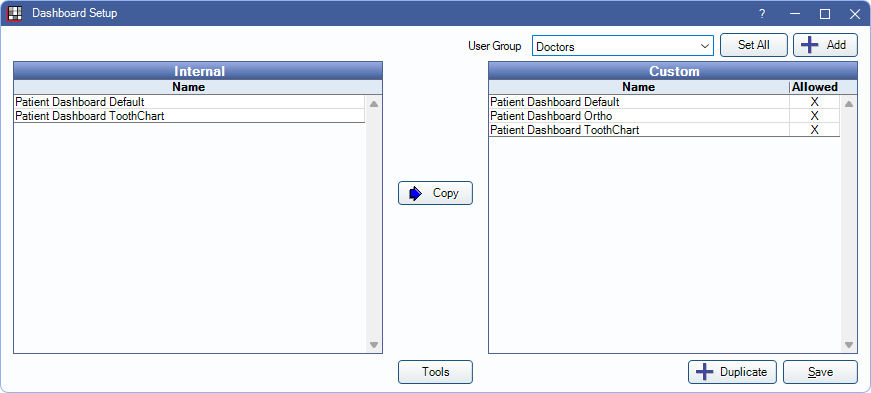 Alternatively, if a database has more than 28 dashboards, in the Main Menu, click Tools, Patient Dashboards, Setup.
Also see Patient Dashboard.

See our video: QuickTip: Patient Dashboard.
User Group: To access the dashboard, a user must be assigned to a user group that has a dashboard marked as Allowed. The SecurityAdmin permission is required to allow user group access.
Set All: Click to mark all custom dashboards as allowed for the selected user group.
Add: Click to add a new dashboard from scratch.
Internal: Lists the original sheet template that comes with Open Dental. This sheet cannot be edited, but can be copied.
Custom: Lists customized templates that have been created by your office.
Allowed: Select each dashboard that you wish the selected user group to have access to. Allowed dashboards will be marked with an X.
Copy: Click to copy the internal sheet to be customized.
Tools: Click to Import or Export a patient dashboard sheet. Useful for sharing saved layouts with other Open Dental databases.
Editing a Dashboard
Double-click a dashboard in the Custom column to edit it.
Dashboards are edited in the same style as sheets. For more information on editing sheets, see Sheet Field Types.