For Canada users, in the Procedure Codes window, click Tools.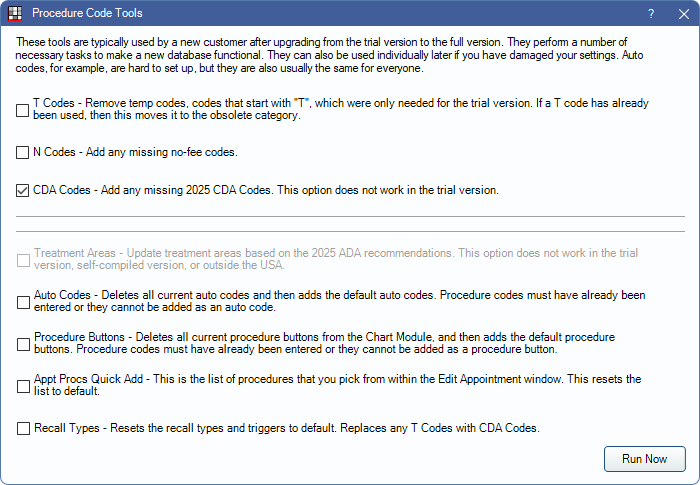 The Procedure Code Tool can automatically update the Procedure Codes with any missing CDA codes, missing N codes, default auto codes, add default Procedure Buttons, and remove any temporary codes (T codes) installed with the trial version.
Note:
Use caution when selecting and running tools so you do not accidentally reset customized Auto Codes and Procedure Buttons.
Codes from the Canadian Dental Hygienist Association (CDHA) are not automatically included in Open Dental. Contact Open Dental Support to quickly import most procedure codes.
Check the tools you want to run, then click Run Now. A message will show when updates are done.
T codes: Remove all temp codes (T) that were only needed for the trial version.
N Codes: Add missing no-fee procedure codes.
CDA Codes: Add any missing CDA procedure codes. Newer codes may not be included in the import. Additional codes can be added manually, see Add Procedure Code.
Auto Codes: Generate Canada Auto Codes or reset to the default Auto Codes.
Procedure Buttons: Generate Procedure Buttons or reset to the default Procedure Buttons.
Appt Procs Quick Add: Generates single-click buttons in the Appointment Edit window. See Canada Definitions: Appt Procs Quick Add.
Recall Types: Resets recall types to the default. See Canada Recall Types