In the Main Menu, click Setup, Program Links. Double-click on Scanora from www.soredex.com.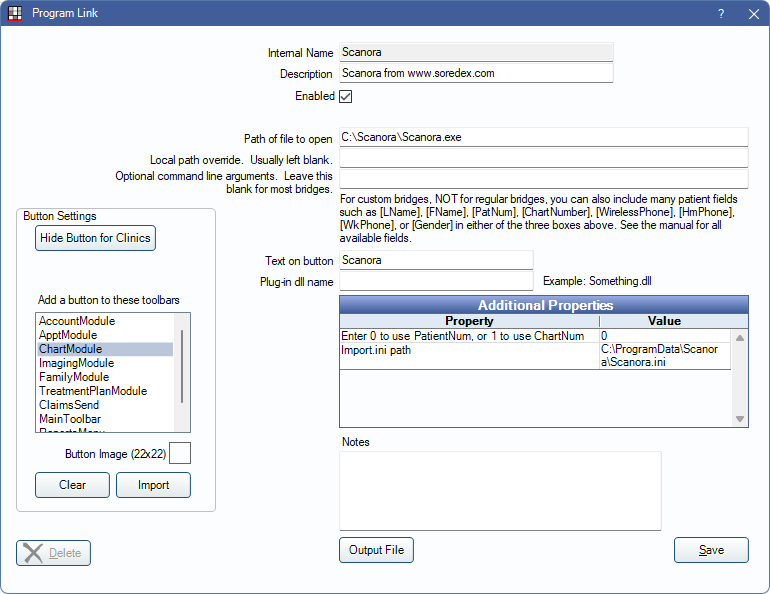 Scanora is a cone beam tomography and optional 2D panoramic imaging system in one. Website: https://www.kavo.com/en-us/?lang=en-us.
To enable the bridge:
Check theEnabled box.
Verify the Path of file to open.
Double-click on a row in Additional Properties to change settings.

Use the PatNum (enter 0) or ChartNum (enter 1) as the patient ID.
Set Import.ini path for the

C:\ProgramData\Scanora\Scanora.ini

file.

Set up a clickable bridge button.

Under Add a button to these toolbars, highlight where to display the button.
Enter the Text on button.
(Optional) Import an image to show on the button (22 x 22 pixels).

If using clinics, click Hide Button for Clinics. Select which clinics the button should display on.
Click OK.
Technical Details
This is an example of what your ini should look like:
[PracticeManagementInterface]
CLEAR_PRACTICE_MANAGEMENT_AUTOMATICALLY = 1
USE_PRACTICE_MANAGEMENT = 1
PATID = 443672
PATLNAME = Test1
PATMNAME =
PATFNAME = Scanora
PATSOCSEC = 123456789
PATBD = 1980-10-20
PROVIDER1 = Jessica Castaneda, FNP
PROVIDER2 = doc Testnew
ADDRESS1 = 1234thst
ADDRESS2 =
CITY = Albany
STATE = OR
ZIP = 97321
HOMEPHONE = 5415222222
WORKPHONE = 5412222222
EMAIL1 = abc@gmail.com
Your ini file should be in the ANSI encoding file format with a leading blank line.