Auto Notes are templates used to insert large complex notes that you enter frequently in various text boxes throughout Open Dental. In addition to static text, prompts can offer a selection of responses or the ability to enter text.
In the Main Menu, click Setup, Auto Notes.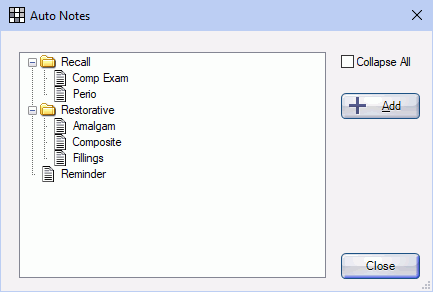 All auto notes currently setup will list, organized in tree view.
Click + to expand a folder tree.
Click - to collapse.
Check or uncheck the Collapse All checkbox to quickly collapse or expand all folders.
To create or reorder folders, see Definitions: Auto Note Categories.
To move an auto note to a different folder, select the auto note then drag it to another folder.
Create Auto Notes
On the Auto Notes window, click Add, or double click on an existing auto note to edit.


The current text in the note is on the left. Prompts within the note are indicated by [Prompt:""].

Name: Enter an identifying name for the auto note.
Text: Enter the static text of the auto note.
Available Prompts: All prompts currently setup list here. To insert a prompt, position the cursor in the Text field at the point of insertion, highlight the prompt, then click Insert. To create or edit prompts, see Auto Note Prompts.
Click OK to save the note.