In Rx / Prescriptions List, at the bottom, is a Combine button.

Combining prescriptions is useful when multiple versions of the same prescription have been inadvertently created. Combining prescriptions does not change the historical information of prescriptions that are already in patient charts.
Select the prescriptions you want to combine (press Ctrl or SHIFT while clicking).
Click Combine.

Click OK to proceed.

Highlight the one prescription that the others will be combined into (the prescription to keep).
Click OK. If the prescription details differ, another warning message will show.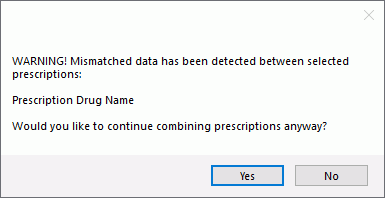 Click Yes to proceed. Only the kept prescription will remain in the Prescriptions list.