Set up this Insurance Plan Type when the plan pays a flat fee instead of a percentage. Insurance coverage will be 100%.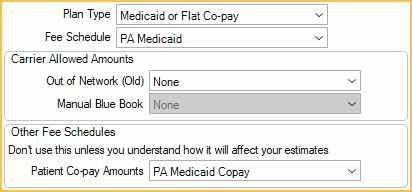 Write-offs are not tracked and production numbers may be inflated. To track write-offs, see HMO / DMO Insurance Plan with Co-pays.
On the Insurance Plan, select these options.
Plan Type: Medicaid or Flat Co-Pay. This will clear all percentages, maximums and deductibles, but a warning message will show first.
Use Alternate Codes: If applicable, check this box to show alternate codes and provider fees on the claim. To associate alternate codes to procedure codes see Procedure Code, Alt Code. To show the procedure description on the claim, you must also add the alternate code, with description, to the Procedure Code List. Otherwise the description will be blank. See Adding aNew Procedure Code.
Claims show UCR fee, not billed fee: Check this box.
Fee Schedule: The carrier's fee schedule.
If insurance does not cover a procedure for some reason, and you don't expect the patient to pay, you can enter it as a write-off when you enter the insurance payment, however these write-offs are not tracked.
If a patient is required to pay a co-pay for procedures
Create a co-payFee Schedule for the carrier.
For each procedure code, enter the patient's co-pay amount. There can be just a few fees with the rest blank. If you only have the insurance co-pay fee schedule, not the patient co-pay amounts, use this equation to obtain the fee:

Carrier Fee - Insurance Co-Pay = Patient Co-Pay

On the Edit Insurance Plan window set the following:

Fee Schedule: The normal fee schedule for the carrier.
Patient Co-pay Amounts: The co-pay fee schedule for the carrier.