In Select Patient, click Add Pt.

On the Select Patient window, at a minimum, enter the last name of the new patient and check that a record doesn't already exist.
To add a single patient, click Add Pt to open the Edit Patient Information Window. To add multiple family members, click Add Many. See Add Family.
When adding a new patient from the Select Patient Window, the following fields carry over:
First Name
Last Name
Birthdate (mm/dd/yyyy)
Existing Family
To add a new patient to an existing family:
In the Family Module, select an existing patient in the family.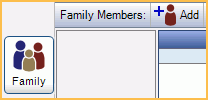 In the Toolbar, click Add. Enter patient details on the Edit Patient Information window, then click OK to save.
When adding a new family member, the following fields carry over from the currently selected family member:
Wireless Phone
Work Phone
Email
Text Message OK status
Appt Text status