A mount is a collage of multiple images or radiographs that can be viewed together.
In the Main Menu click Setup, Imaging, Mounts.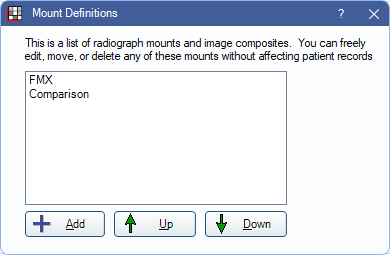 Mount Defs that are created here are templates. They will be available in the top toolbar of the Imaging Module. Once you pick a Mount Def from that toolbar, a new Mount will be created for that patient with a layout based on the Mount Def template.
Add: Click to add a new Mount Def.
Up/Down: Click to re-order the list.
Click Add to create a new Mount Def, or double-click to edit an existing Mount Def.
Generate Mount
If adding a new Mount Def, you will start by generating a layout from one of the built-in templates. These will serve most purposes or can be a starting point for a similar Mount Def.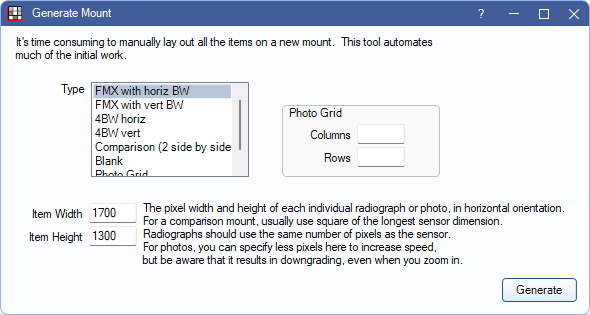 Type: Select the type of mount from the list. Each type is a different layout. Find the layout that most closely resembles your desired layout.
Item Width / Height: The width and height of one image.
Photo Grid: Use when Photo Grid is selected as the type.
Columns / Rows: Enter the number of columns and rows desired for the photo grid.
Generate: Click to generate the Mount Def and make edits.
Edit Mount Def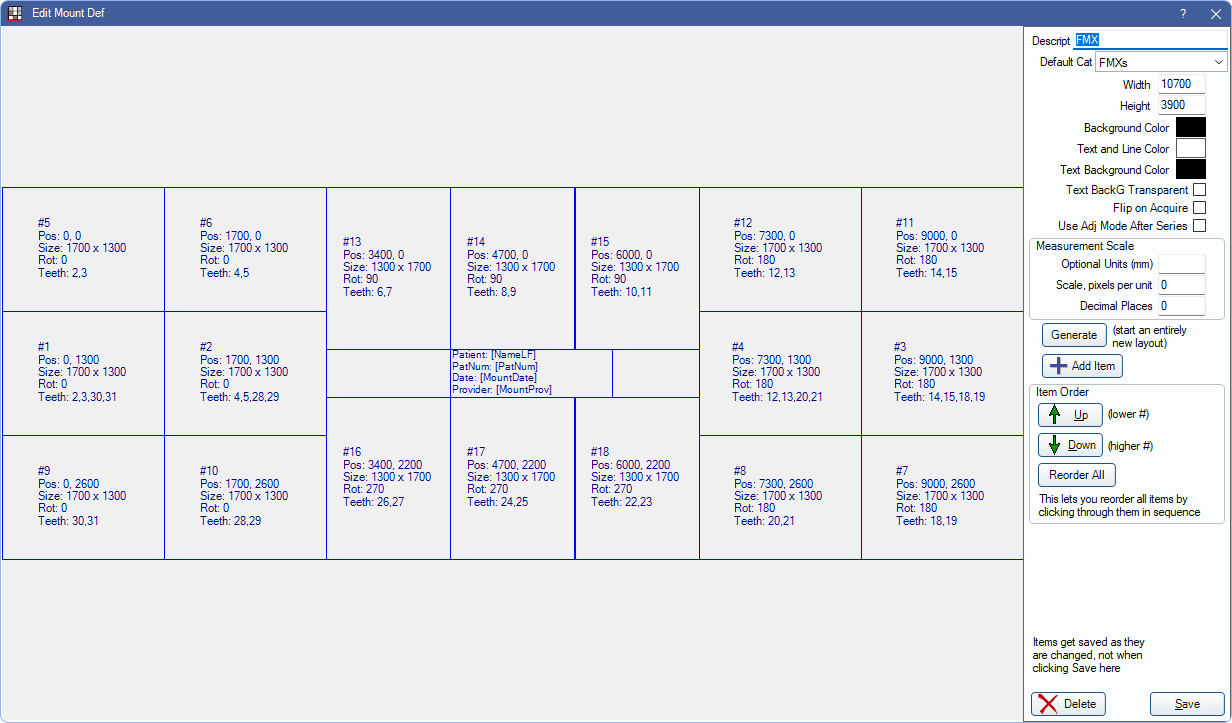 Description: Enter a name for the Mount Def.
Width / Height: The width and height of the Mount Def.
Generate: Click to start a new layout which will erase the current layout.
Add Item: Click to add a new image item.
Item Order. Up / Down: Highlight an item, then click the arrows to re-order the layout.
Reorder All: Click to set the order number to 0 for all items. Then, click each item in your desired order. Once complete, click Stop to save changes.
Highlight an item, then click and drag to move it, or use the arrows on your keyboard.
Click OK on the Mount Def when finished. Click Delete to remove it from the Mount list.
Item Edit
Double-click an item on the template to edit the size and information.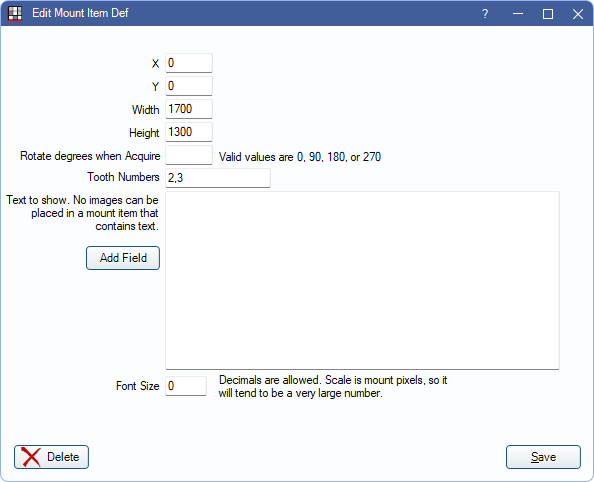 X / Y: Enter the X and Y positions on the template.
Width / Height: Enter the width and height of the item.
Rotate degrees when Acquire: The number of degrees to rotate the item when using the Acquire button in the Imaging Module.
Tooth Numbers: The typical tooth numbers associated with this item.