In the Main Menu, click Tools, Misc Tools, Merge Medications.

Merging permanently assigns the merge into medication wherever the merge from medication is assigned. To run this tool you must have the Medication Merge permission.
Click Change to select the medications from the Medications List.
Medication to merge into: Click Change to select the medication that will remain.
Medication to merge from: Click Change to select the medication that will merge into the above medication.
Click Merge.


To confirm the merge, click Yes. If the generic numbers, medication names, or RxCUIs differ, you will be notified and informed of how many patients have the merge from medication in their list.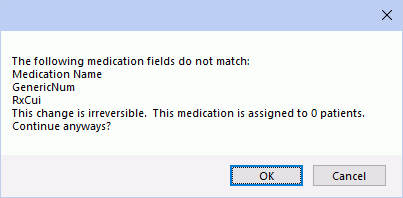 Click OK to proceed.
A Done message will show when the merge is complete. The merge from medication will no longer appear in the master Medication list and any patients with the merge from medication will have the merge into medication instead.