Current Procedural Terminology (CPT) codes are five digit numeric codes used to describe medical procedures and physician services. They are maintained and distributed by the American Medical Association (AMA).
For EHR, CPT codes are optional. If used, CPT codes can be used for CQM Encounters, Reasons not Performed, Vital Signs, and Smoking Cessation Interventions. CPT codes will show in clinical summaries, summaries of care (for validation) and CQM Reports.
Note: Imported codes will not show in the Procedure Code List. Instead, CPT codes must be manually added and, if desired, cross coded to procedure codes. See
Cross Codes
and
Medical Insurance
.
To purchase in data file format, visit the AMA store.
2017 codes (version 16.2.6 or 16.3.8 and greater): The file may be named DL513217.zip.
2016 codes (version 16.2.56): The file should be named DL513216_2016.zip.
2015 codes (version 15.1): The file should be named cpt-2015-data-files.zip.
2014 codes: The file should be named cpt-2014-data-files-download.zip.
Once purchased, CPT codes use the Code System Importer to import the codes into Open Dental.
In the Main Menu, click Setup, Chart, EHR, then Code System Importer.
Click Check for Updates.
Highlight the CPT row, then click Download Updates.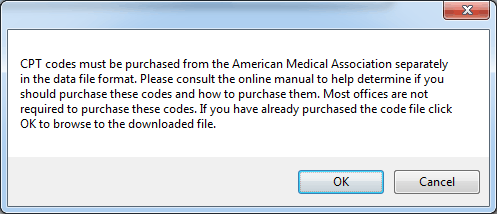 If you have purchased the file, click OK then locate the file on your computer.
If you are prompted to enter a version year, enter the year of the codes you purchased (e.g. if you purchased 2017 CPT codes, enter 2017).