Use Code Groups to set up Insurance Frequency Limitations.
In the Main Menu, click Setup, Code Groups.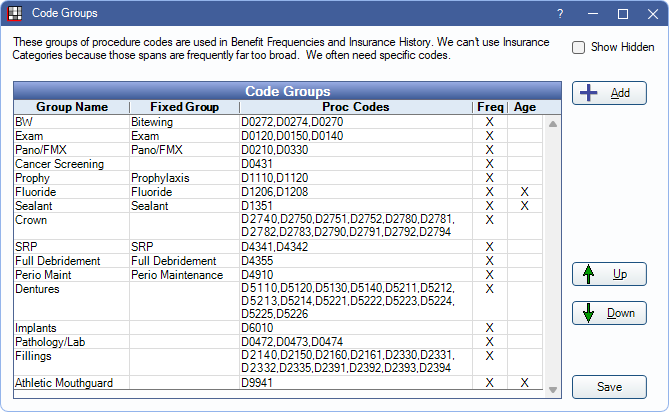 Show Hidden: Check to view Code Groups marked hidden in the grid.
Add: Open Code Group Edit to create a new Code Group.
Up / Down: Select a Code Group from the grid and click to move in the list.
Code Group Edit
Double-click an existing Code Group from the grid to edit or click Add to create a new group.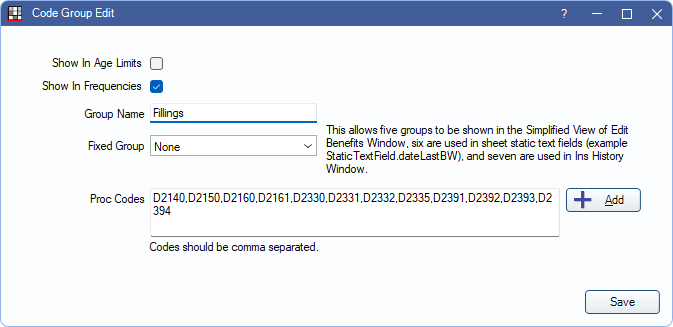 Is Hidden: Check to hide the Code Group as a selection.
Group Name: Description for the Code Group
Fixed Group: Assign a predetermined grouping to use this Code Group with certain fixed fields like Static Text Fields (e.g., dateLastExam) or Insurance Benefit fields (e.g., Exam Frequency). Fixed Groups affect the following:

Bitewing: dateLastBW Static Text Field and BWs field in Edit Benefits
Exam: dateLastExam Static Text Field and Exams field in Edit Benefits
Pano/FMX: dateLastPanoFMX Static Text Field and Pano/FMX field in Edit Benefits
Prophylaxis: dateLastProphy Static Text Field
SRP: dateLastSRP Static Text Field
Perio Maintenance:dateLastPerio Static Text Field

Proc Codes: Enter procedure codes that apply to the Code Group. Click Add to open the Procedure Codes list and select procedure codes.
Click Save to exit the window and keep any changes.