The Insurance Payment (EOB) window is described at the bottom of both Finalize Insurance Payment and Batch Insurance Payment. In the lower left corner of that window, there is an area indicating if the EOB is already scanned.

If the EOB is not scanned (No), click Scan EOB to scan the EOB.
If EOB is already scanned (Yes), click View to view the EOB.
We recommend entering all EOB information (including remarks) with payment details so you can refer to and access it when needed. If a patient asks why insurance did not pay as expected, you can quickly determine exactly which procedures were not paid and why.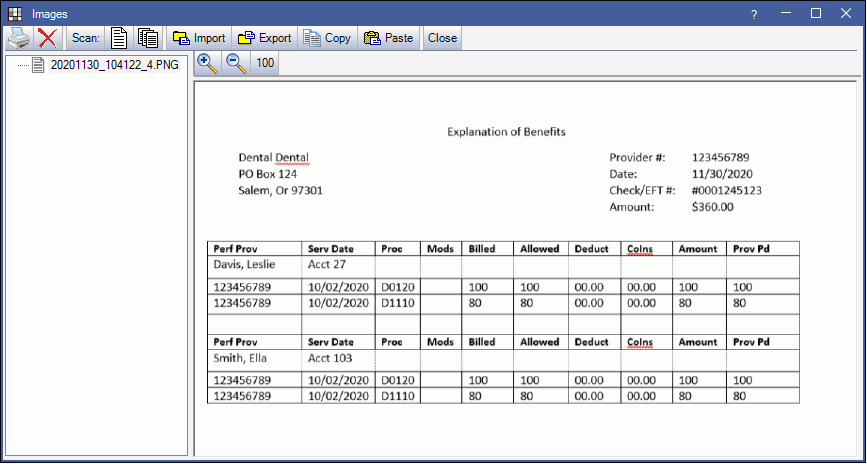 Printer: Opens the Select Printer window so you can print the selected image. The image will automatically resize to fit the printed page. Not available for PDFs.
X: Delete the selected image.
Scan Document: Use the flatbed scanner of your attached device to scan a single page of the EOB.
Scan Multi-Page Document: If you have an automatic document feeder (ADF), scan multiple pages at once.
Import: Import an existing EOB file from your computer or network.
Export: Export the selected EOB file to another location on your computer or network.
Copy: Copy the selected item to the clipboard.
Paste: Paste an item from the clipboard. JPEG Compression is applied to pasted images. See Imaging Quality.
Close: Close the EOB window.
Magnifying Glass + and -: Zoom in and out in 50% increments, or click 100 to view the EOB at 100%.
Scanned and imported EOBs are stored in the OpenDentImages\EOBs folder.