Wiki Lists
Wiki lists are stored as tables in the database. Wiki lists are searchable and reportable. URLs within wiki lists can be right-clicked to open in a web browser.
Create a List
In the Main Menu, click Tools, Wiki. Then click Lists in the top toolbar.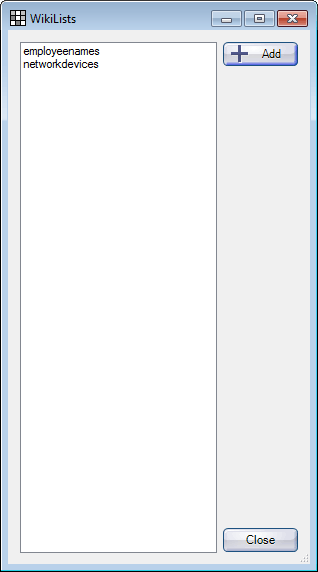 Lists are organized alphabetically by name. Double click on a list to edit, or click Add to create a new list.
Enter the name of the list and click OK. This name will be the identifiable name in the database, and will include no spaces or capital letters.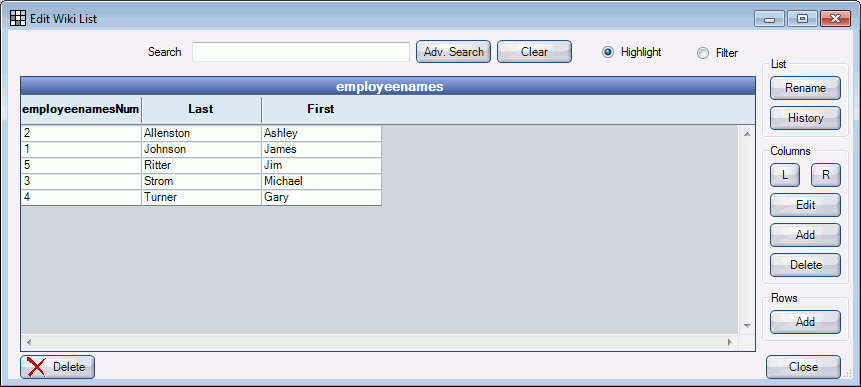 When you first create a list, there will be a static column on the left named "tablename"Num. This is the primary key column and cannot be moved or renamed. It can only change in width; any changes to heading will be ignored. If additional columns are added, the items in the list will be sorted alphabetically by the second column contents.
Add Columns and Rows
Manually add additional columns and rows.
List
Rename: Edit the name of the list.
History: View a complete dated archive of all previous versions of the current list. You can revert to a previous version by highlighting the version in the Wiki List History window and clicking the Revert button on the right side of the screen.
Columns
L / R: Move the selected column left (L) or right (R).

Edit: Change the column heading and/or width.

Add: Add a new column to the right of the last column in the list.

Delete: Delete the selected column. A column cannot be deleted if it contains data.
Rows

Add: Add a new row to the list/table. After adding an item to the list it will be highlighted and the list will scroll to the location of the new item. Double-click in a row to add or edit content.

Single click in a cell to enter text, then click OK.
Delete Button: Delete the entire list, including all references to it.
Search Wiki List
There are several ways to customize the wiki list search.

Enter the criteria in the Search field.
If Highlight is selected, matching entries will highlight yellow and the list will automatically scroll to the first match.
If Filter is selected, only the matching entries will display as unmatching entries are filtered out.
Click Adv. Search to launch the Advanced Search window.
Select a column or columns to limit the search to only those columns.
Click OK. Search will change to Advanced Search in the Edit Wiki List window.
Click Clear to return to the normal search.
Generate Reports
Each wiki list represents a table in the database named using the follow format: wikilist_listname. You can generate a report from a wiki list using Queries. For syntax, see Using SQL. Example: "SELECT * FROM wikilist_employeename"