User Manual
The online manual reflects features available in the newest Beta Version. Some features may not be available in the version you are currently using.
How to Use the Manual
There are currently over 1300 manual pages and we continue to update, improve, and add content daily.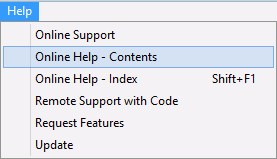 How to Access: Access the manual via the Open Dental website (www.opendental.com) or via the Open Dental main menu, Help option:
Online Help - Contents: Opens this page.
Online Help - Index: Opens the search page.
Table of Contents: Below is a list of main topics within the manual (Table of Contents Links). We are working on a better and complete table of contents to help you quickly find the information you are looking for.
Search: We have a simple javascript search to help you find main concepts within the manual.
Click Search in the upper right corner.
Enter a keyword in the Search field. As you type, matching results will list. Click on a result to visit the web page.
If the page doesn't contain the information you want, return to the Search and repeat steps 1 - 2.
Note: The search will only return results for entries that exactly match the text entered. It is not a string search and thus does not search all text on a page. Hints: Use general concepts, window names, field labels.
Table of Contents Links
Below are links to main topics within the manual.


Setup
After a data conversion:
Starting with a blank database:
Modules
Other
Reports
Dental Schools
Orthodontics
Public Health

Troubleshooting
If you experience issues when displaying an Open Dental web manual page and are using Internet Explorer, it may be a compatibility issue. Usually the issue is temporarily fixed by refreshing the window. To permanently fix the issue, add www.opendental.com to Internet Explorer's Compatibility View Settings.