Electronic EOBs (ERA 835s)
The ERA 835, also known as electronic remittance advice format, is an electronic Explanation of Benefits (EOB). ERAs can simplify your data entry process for entering insurance payments. Using the ERA, Open Dental will auto-populate insurance paid amounts by claim, however you must still receive each claim and finalize the payment.
General steps include:
Download the ERA to the clearinghouse Report Path. Open Dental supports automatic download from some clearinghouses. See Clearinghouse Setup for a list.
Review and verify claims and amounts to mark the claim status as 'received'.
Finalize the payment.
Notes:
Not all insurance carriers offer ERAs or the ability to automatically download. Contact your clearinghouse to find out if they do and what you need to do to receive them. If automatic download is not available, you can manually download ERAs to the Report Path.
Further support for the 835 is in development (See Feature Request #138).
If you receive an ERA for an in-network plan, the insurance plan must be set up with a plan type of 'PPO Percentage' so writeoffs are calculated accurately (See In-Network Plans). If the plan is not set up as a PPO, writeoffs will automatically apply and you will end up with inflated patient credits.
View ERAs
In the Manage module, click ERAs.
By default, ERAs received in the last 7 days that have a status of unprocessed, partial, or not finalized will list. If more than one patient is associated with an ERA, the number of patients shows in the Patient Name column instead of name.
Filter Options: Click Refresh to update the list.
From/To: Change the date range. Click the down arrow to select dates from a calendar then click the up arrow to collapse the calendar. Click the W buttons to jump back or forward one week.
Amount Range: Only show ERAs within a certain payment amount range. Min = the minimum payment amount to show. Max: the maximum payment amount to show. Leave blank to show all ERAs regardless of payment amount.
Carrier: Filter by carrier.
Check#or EFT Trace#: Only show ERAs for a specific check number or EFT trace # (entered on the XXX window while finalizing the payment)
Clinic: If using Clinics, filter by clinic. If ERA has more than one clinic, 'multiple' will show.
Status: Filter by ERA processing status:
- Unprocessed: ERAs that have not been processed at all (no claims are received).
- Partial: ERAs with some claims that are received, and others that are not.
- NotFinalized: ERAs with claims that are received, but still need finalized.
- Finalized: ERAs with a finalized payment.
Note: ERAs can also be viewed and processed via the Insurance Claims window, History grid.
Process the ERA
Processing an ERA involves receiving each claim and then finalizing the ERA payment.

On the Electronic EOB window, or the Insurance Claims window, double click the ERA row.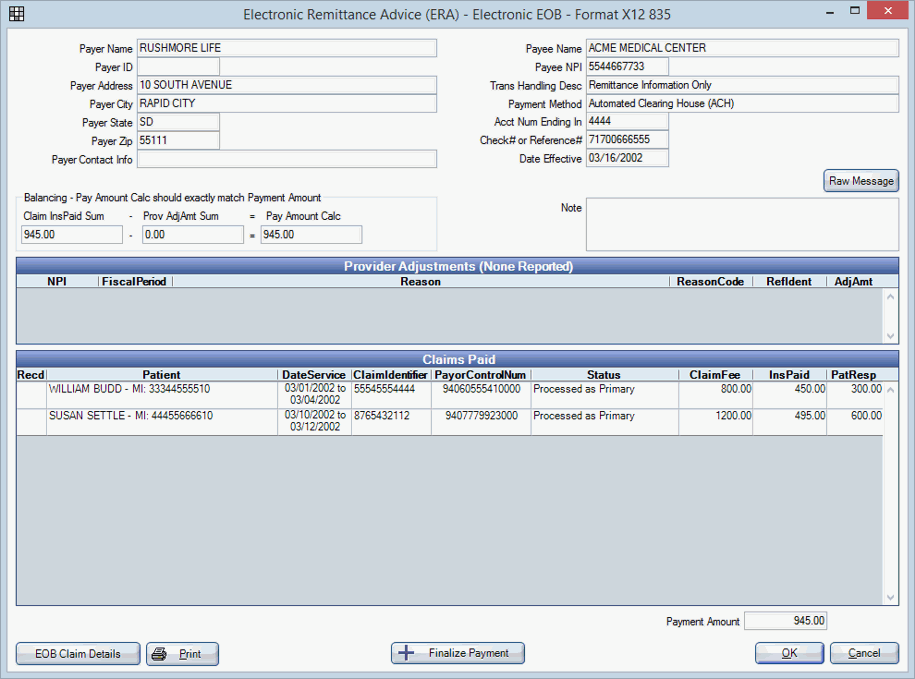 All claims in the ERA list under Claims Paid.


Receive a claim. Double click a claim in the Claims Paid grid. If a matching claim is found, this window will open.
Note. If a matching claim is not found, you will be asked to manually locate it. See Matching Claims and ERAs.


Verify that payment amounts are accurate.

The amounts for EOB totals should match the Totals amounts.
The Total Payment row reflects "by total" payments. It may include payments for procedures that are not itemized on the ERA.
Deductible: Click to move all deductible amounts to the selected row (it can be any row, including Total Payment).
Writeoffs: For In-network PPO Plans, if you change insurance paid or deductible amounts, make sure to manually writeoff and out of network amounts as well.
If more claim details are needed, double click on the payment to open the Claim Procedure window or click EOB Claim Details.



EOB Claim Adjustments, EOB Procedure Breakdown and EOB Totals are read only and for reference when entering payments.
Click OK to mark the claim as 'received'. An X will show in the Recd column of the main Electronic Remittance Advice window.
For each claim in the ERA, repeat steps 2 - 4.
Finalize Payment: When every claim in the ERA is marked 'Received', click Finalize Payment.
Most information will be auto-populated. Enter any other details if needed.
Prepaid Insurance Cards: If payment is via a prepaid insurance card and X-Charge or PayConnect is enabled, you can process the payment. Buttons are only visible when X-Charge or Payconnect is enabled. Click a button to process the payment. When the transaction is complete, the Edit Insurance Payment window will still be open and transaction details will show in the Note.
Process a PayConnect Payment
Process an X-Charge Payment
Click OK to open the Insurance Payment window and verify that the correct claims are attached and the amount is accurate.
Click OK again to finalize the payment.
Other Options
Provider Adjustments: Double click a row to open a simple window that can be used to copy text.
Troubleshooting
Problem: The ERA-835 does not list.
Solution: To show in the grid, the report must already be downloaded into the Report Path specified in Clearinghouse Setup. Some clearinghouses do not allow automatic download of reports to the Report Path. In these cases you can often view the reports on the clearinghouse website, and manually download to the report folder.
Problem: When clicking Send Claims, receive error: Error retrieving. Era request unsuccessful. Error message received directly from ClaimConnect: 150. Service Not Contracted.
Solution: This means you are not signed up for the ERA download service with ClaimConnect. You have two options:
To enable the service, contact ClaimConnect.
To stop the error message (and not enable the service), update to version 16.1.14 or greater.
ClaimConnect Note: Once ERAs are downloaded they are marked 'processed' on the ClaimConnect website. To mark an ERA as 'unprocessed' (e.g. if there is an error), do so on the ClaimConnect website.
Logic: Sometimes EOBs do not itemize payments by procedure. In these cases, paid amounts are assigned to the Total Payment amount. If procedure payments are known (itemized), then those payments will be subtracted from the Total Payment amount, and amounts are indicated in each procedure row. When all procedures are itemized, and there are no claim adjustments, there will be no Total Payment entry because it is unnecessary.