UAppoint
Available starting with version 5.9. See www.uappoint.com Open Dental can keep the UAppoint server synched with any changes in patients, recall, and appointments. Customers using the UAppoint service would then be able to let patients do searches on web for available appointment time slots. The patients would be able request specific appointment times. The office receptionist would receive the appointment requests by email and manually schedule them.
When signing up, in addition to this page, see www.uappoint.com/getstarted.php. Under "Referral Code" enter "sparks" in order to have the $299 activation fee waived.
In the Main Menu, under Setup, select Program Links. Double click UAppoint.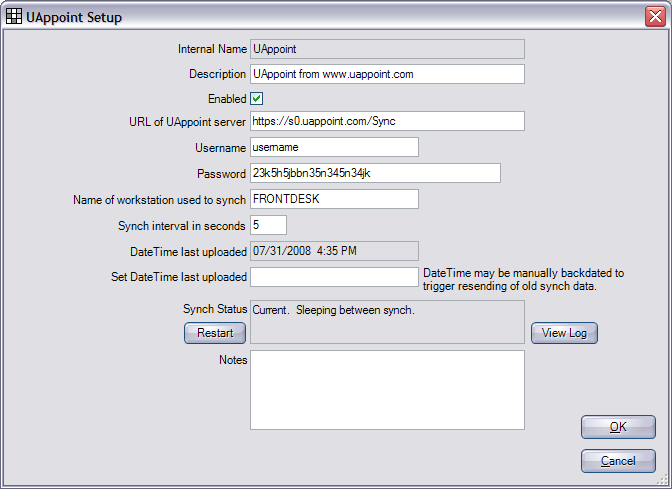 The above window should only be accessed and changed from the workstation that is going to be responsible for the synch. It will not let you save changes unless the workstation entered matches the name of the current computer.
Provider Schedules will need to be accurate, because UAppoint bases appointment availability on the provider schedules.
Synchronization will be automatically restarted if the Enable box is checked when the OK button is clicked. If Synch Status shows an error of some sort, it might also indicate that it is paused. The Restart button will let you manually restart the synch process without leaving this window. You can then monitor the Synch Status to make sure it's working properly. The View Log button lets you see the text file log of all activity since the synch process was started last.
Every time that the synch is triggered, about 8 queries will be run just to determine if any data has changed. And every time someone changes an appointment or patient info, the workstation will connect to the UAppoint server to perform an upload. So 5 to 10 seconds is a reasonable synch interval, although you could increase it significantly if you notice any slowness on the workstation.
Appointments
The only existing appointments which will show in UAppoint are those with status of ASAP, None, Complete, or Scheduled. Appointments which will not show include those with a status of Broken, Planned, PtNote, PtNoteCompleted, and UnschedList. If you use dummy appointments to put notes on the daily schedule, then you should be aware that those "appointments" will also be synched with UAppoint. For this reason, make sure to use dummy patients that do not have any contact information associated with them.
Confirmations
You have a choice of using UAppoint to confirm appointments, or of using Open Dental to confirm appointments. There are pros and cons to both options, and you need to decide which works better for your office. If you use Open Dental for confirmations, you will be able to see the confirmation status on your main schedule. If you use UAppoint, you will be able to send automatic confirmation emails. Patients will be able to click on a link to confirm.
Recall
Similarly, you have a choice for sending recall notices. If you do it from UAppoint, patients can receive emails which will direct them to the UAppoint website to schedule their own appointments. Open Dental's recall system would be better geared for postcards or phonecalls rather than emails.
If you are using UAppoint for recall, the interval will be set from Open Dental. Do not use complex mixed intervals such as 6 months, 1 day. Use simpler intervals like 6 months, or 180 days, or 1 year. Also, overriding the due date in Open Dental will have no effect on the due date showing in UAppoint. The UAppoint due date is always calculated based on the last cleaning. The last cleaning is defined as a cleaning procedure attached to a previous appointment. If the procedure is one of the following codes, then it will trigger a recall:
4335
D1110
D1111
D1120
D1112
D1201
D1202
D1205
D4340
D4342
D4345
D4355
D4910
D4341
D0120