See: MySQL
The slow query log is useful to troubleshoot slowness in Open Dental.
In the Open Dental application folder, double-click SlowQueryLogTool.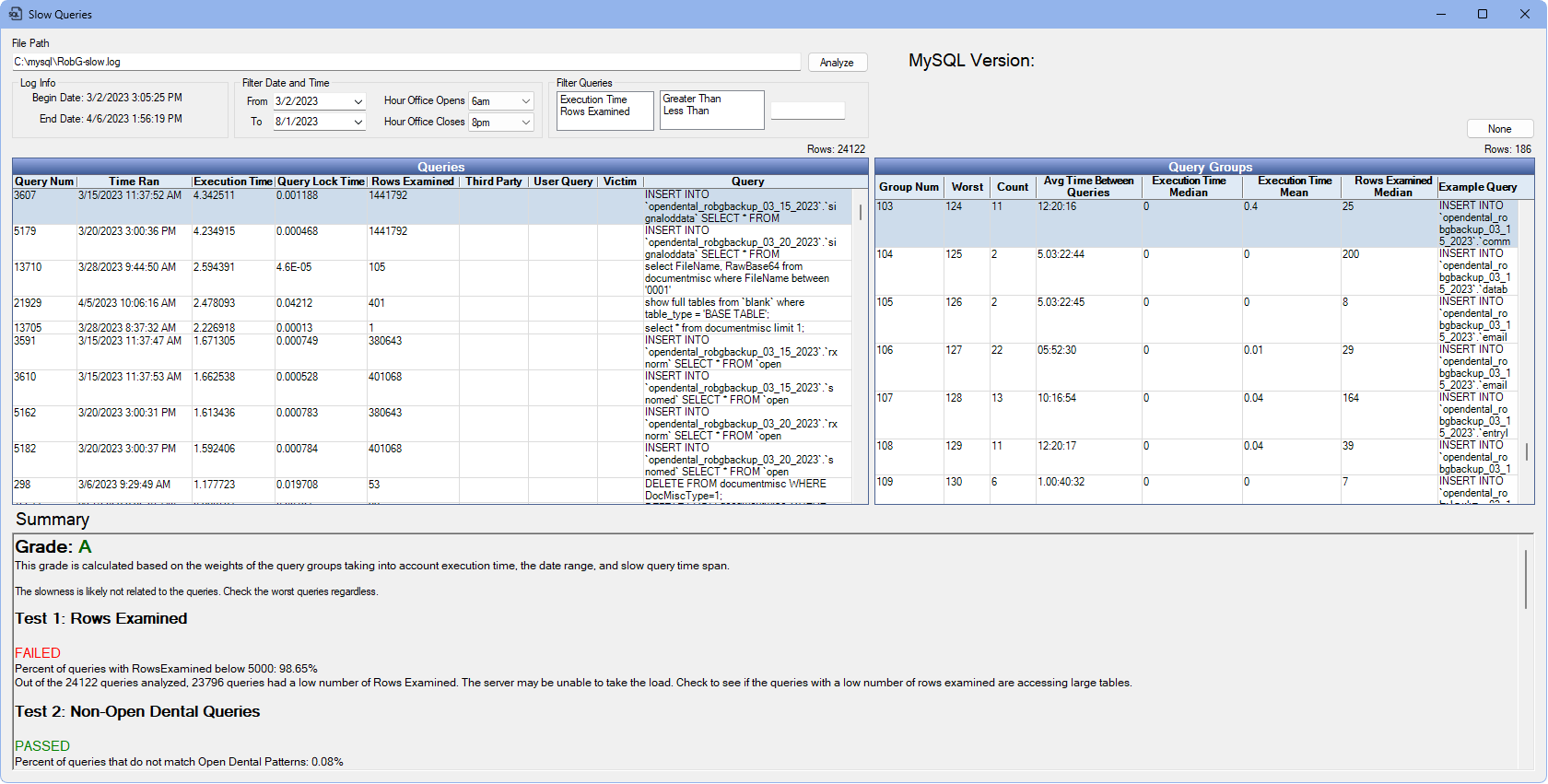 The slow query log is an advanced tool used by Open Dental support when Troubleshooting Slowness issues. Contact Open Dental support to determine if the log is needed for your office.
File Path: Location of the slow query log.
Log Info: The beginning and end date of the log information.
Filter Date and Time: Filter the results of the log by date and office hours.
Filter Queries: Filter specific queries by execution time or rows examined.
MySQL Version: The MySQL version used by the database.
Queries: Lists individual queries.
Query Groups: Groups similar queries.
Summary:
Grade: An evaluation of how bad the slow query log is. It is based off the average of small to medium sized offices. If the grade is A or B, the slowness is not likely due to the Open Dental database. If the grade is C or lower, the slowness may be a cause of the Open Dental database.
Test 1: Rows Examined: This looks at the number of queries that have a low number in the Rows Examined field. This test fails when the percent of queries with Rows Examined less than 5000 rows is over 20 percent.
Test 2: Non-Open Dental Queries: This tool detects queries that are not from Open Dental by checking if the queries match the patterns we use when writing queries. If this percentage is high or if the worse queries are third-party, temporarily disable the third-party service to see if slowness improves. This test fails if more than 15% of queries are from a third-party.
Test 3: Victim Queries: A query is marked as a victim query when it examines less than 100 rows and takes more than 3 seconds and there is another query that examines over 100,000 rows and takes more than 5 seconds and finishes within 10 seconds after the victim query finished. If a query is a victim query, look for queries around that time to see the root cause of the slowness. This test fails if there are any victim queries.
Test 4: User Queries: Queries from the User Query window in Open Dental are sometimes the cause of slowness. A query is counted as a user query if it contains an "@" character or it contains the text "Modified By". This test fails if more than 5% of queries are user queries.