The Patient Forms window opens when you click Forms in the Main Toolbar. From here you can see all Patient Forms and Medical Histories generated for a patient. Images, pdf's, or other files that are in an Images category marked with a usage of Show in Patient Forms will also show.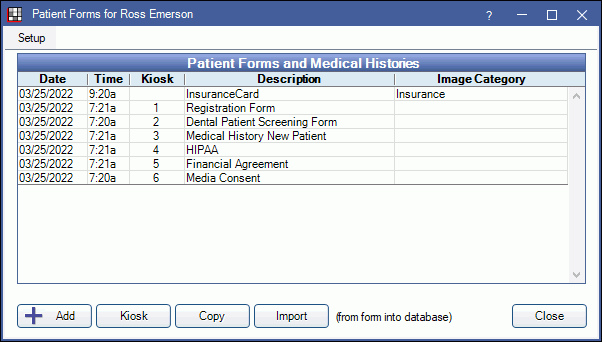 Double click on a row to view the form or image. See Filling Out Sheets.
Setup: Click Setup in the upper left corner, then select a menu option.
Sheets: Go to Sheets to customize patient forms or medical histories.
Image Categories: Opens the Definitions window with Image Categories selected (Definitions: Image Categories). If you want items in an Images module category to show as options in the Patient Forms and Medical Histories list, set it here. Double click on the category, then check the Show in Patient Forms box.
Options: Check the box to show Consent Forms in the list.

Add: Create a new form for this patient.
Kiosk: Send any forms selected for this patient to the Kiosk (Using the Kiosk).
Copy: Create a new copy of an existing form (useful when updating information).
Import: Import completed form data into the database. See Importing Patient Forms and Medical Histories.
Close: Exit the window.