In the Main Menu, click Lists, Procedure Codes, and in the lower left, under Procedure Codes, click Tools.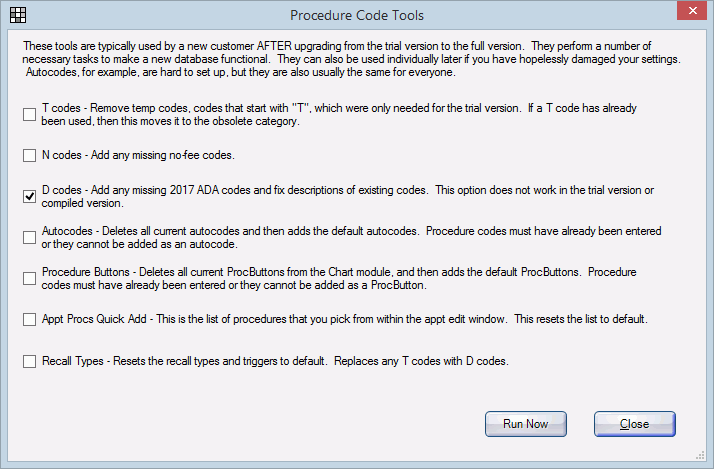 New CDT codes are periodically released by the American Dental Association and generally released in Open Dental version updates at the beginning of the appropriate year. CDT codes are only available for distribution in the U.S.

2019 CDT Codes: Version 18.2.47 or 18.3.26 or greater
2018 CDT Codes: Version 17.2.36 or 17.3.22 or greater
2017 CDT Codes: Version 16.3.19 or greater
2016 CDT Codes: Version 15.3.37 or greater
2015 CDT Codes: Version 14.3.12 or greater
2014 CDT Codes: Version 13.2.22 or greater
2013 CDT Codes: Version 12.4.32 or greater
Update Open Dental to the correct version or greater. See Update.
Check only the D codes box. All other boxes should be unchecked.
Click Run Now.
The new codes will be automatically added to the Procedure Code List.
Technical Details
When running the D codes tool, the following changes occur automatically:
New codes are added.
Descriptions of existing codes are changed.
Deleted codes are moved into the Obsolete category.
2013 Codes: When running the D codes tool for 2013 codes, the changes below also occur automatically.
Insurance Bbenefits all changed to use D1208 instead of D1203/4.
Recall setup fixed to use D1208, including both triggers and newly scheduled appointments.
Changed all existing treatment planned D1203/4 procedures to D1208.
Appt procs quick add, fluoride codes in that list changed to D1208.
Proc buttons automatically change the fluoride codes to D1208.
Troubleshooting
Problem: I can't find my D1208 code.
Solution: Your Cleanings category might be hidden. In the Procedure Codes window, check the Show Hidden box, click All, then type D1208 into the By Code box. Either unhide the category in the Procedure Code List by clicking the Edit Categories button. Or else double click on the code (you must have Setup permission) and move the code to a different category. When you open the Procedure Code Edit window, hidden categories will not show, so the top-most category will be highlighted by default, and you can simply click OK to save the change.
Problem: I already added D1208. What happens when I update?
Solution: The update will not alter your existing D1208 code. All the other related automation will still happen automatically.
Problem: I'm an eCW user. Do I really need to update Open Dental for 2013?
Solution: No. Just manually add code D1208. This assumes that you send your claims from eCW. The main reason for updating Open Dental would be to get the new procedure descriptions. Insurance companies are being very picky about the procedure descriptions in claims. So if you don't send claims from Open Dental, the update is not important.