In the Appointments Module, with a patient selected, double-click on an open place in the Schedule to create a new Appointment.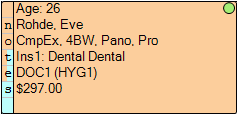 Alternatively:
In the Appointments module schedule, select the patient, and click Make Appt, Make Recall, or Fam Recall.
From the Patient Appointments window, click Copy to Pinboard, Schedule Recall, Entire Family, or Create New Appt.
From the Recall List, Unscheduled List, or Planned Appointment Tracker.
You can also allow patients to schedule their own appointments online using Web Sched Recall, Web Sched New Patient, or Web Sched ASAP. See Web Sched Feature.
Settings on the Edit Appointment determine the appointment details (procedures, length, providers, etc.).
Hints:
When scheduling a procedure with an insurance frequency limitation, and Frequency Limitations is enabled, a warning will popup if a frequency conflict is detected.
To prevent staff from creating appointments with no procedures attached, see Appointments Module Preferences.
To blockout appointment times in operatories, see Blockouts.
Open Dental does not allow overlapping appointments. In some cases, third party applications have been known to cause accidental overlapping. In these events you will have a visual indicator the appointments are overlapped. Diagonal lines will appear through the appointment. Right click and select Bring Overlapped Appt to Front to bring the furthest back appointment to the front..