Web Sched Recall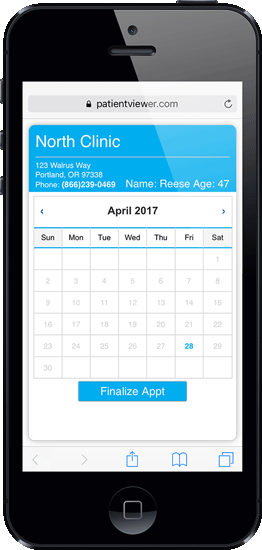 Web Sched Recall, powered by Patient Viewer, allows current patients to schedule their recall appointments online. It is a paid service and you must be on support with an active registration key. The responsive design is intended for use on both desktop computers and mobile devices.

Sign Up: In version 17.1 and greater, use the eServices Signup Portal. For all other versions, contact Open Dental. Fees for Software, Support, and Services

How it works:
Practice customizes Web Sched Recall settings (operatories, recall types, automation options).
Web Sched Recall reminders are sent to patients when recall is due. Each reminder contains a clickable link that is appointment and patient-specific. There are two methods of sending the reminder:

Automated Web Sched Recall reminders: When a recall is due, reminders are automatically sent to each patient's authorized representative using email and/or text message.

Manual Web Sched Recall reminders: Send individual or batch reminders manually via email and/or text message using the Recall List.


Patient receives the reminder and clicks on the link to open a scheduling calendar in a browser.
Patient selects an available appointment to schedule it.
Scheduled appointments instantly show in Open Dental's Appointment schedule.
Track appointments made via Web Sched using the Appointments report.



Resources
Note: For a list of supported browsers, see Computer Requirements. Web Sched Recall cannot be accessed on Windows Phones.
For information about Web Sched for new patient appointments, see Web Sched New Patient.