Web Sched New Patient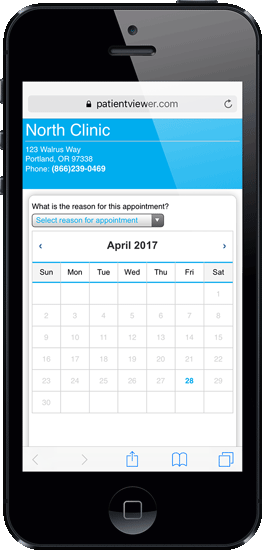 Web Sched New Patient Appointments, powered by Patient Viewer, is an eService that allows new patients 18 years of age and older to schedule their first appointment online. It is a paid service and you must be on support with an active registration key. The responsive design is intended for use on both desktop computers and mobile devices.
Sign Up: In version 17.1 and greater, use the eServices Signup Portal. For all other versions, contact Open Dental. Fees for Software, Support, and Services

How it works:
Practice is issued a URL and links to it from their website.
New patient clicks the link, selects an available appointment, enters basic contact information, and schedules it.
Scheduled appointments instantly show in your Open Dental database appointment schedule and a new patient record is created.
Track appointments made via Web Sched using the Appointments report.
Resources
For information about Web Sched for recall appointments, see Web Sched Recall.
Note: For a list of supported browsers, see Computer Requirements. Web Sched New Patient Appts cannot be accessed on Windows Phones.
To see it in action:
Select No for "Has the patient had an appointment with us before?"
Select 18 and older for "How old is the patient?"