Web Forms
Web forms provide a way for patients to fill out forms online. They are an eService that is hosted on the Open Dental web server. You must be on support and have an active registration key. We can convert your paper forms to Web Forms (sheets) for you. See Sheets, Form Design Services.
How it works:
Create the Web Form using Sheet(s).
Upload the form(s) to the web server and link to it from your website.
Patients access the forms from your website, fill them out online, then submit them.
Retrieve (download) completed forms.
Data entered into input fields can then be Imported into the database (e.g. medical histories, patient registration forms).
Setup

Troubleshooting

Use

Distributors
See Distributors for information on reselling Open Dental eServices.
Notes:
Web Forms are free for those on support. Thus in the Signup Portal the Web Forms option is always checked.
For a list of supported browsers, see Computer Requirements. Web Forms cannot be accessed on Windows Phones.
Users must have Security Permission for 'Setup' to access web form setup.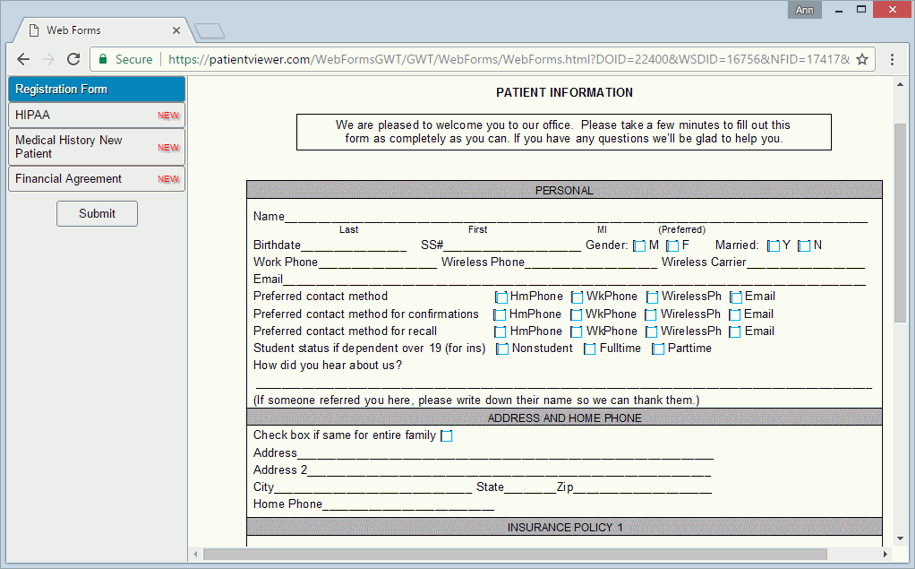 Web forms cannot be signed and will show 'Signature will be recorded later'.